Eau Claire Personal Injury Lawyer
If you or a loved one has been injured, you know all about the stress, physical toll, emotional damage and financial difficulty an injury can cause. Accidents and injuries are unpredictable and can completely disrupt your life. Having to seek medical treatment, talk with insurance companies, miss out on work and deal with the pain on top of everything else in life adds insult to injury. If you or a family member has sustained injury due to another's negligence, a personal injury attorney can help you recover financial compensation for those losses.
Contact An Eau Claire Personal Injury Lawyer
If you have suffered an injury or been in an accident, please contact an attorney as soon as possible. There are some limitations for when you can settle your claim, start a lawsuit, or give special notice after you've been injured. Waiting too long to talk with an attorney to start the legal process could leave you unable to recover compensation for your economic and non-economic losses. For more personal injury cases in Wisconsin the statute of limitations is three years from the date of the accident. However, it is important to speak to an attorney as soon as possible to ensure every opportunity to gather evidence and build the strongest possible cases.
Whether the pain from your injury is immediate, or if the symptoms don't appear right away, it can be hard to tell if you even have a case. At Nicolet Law Accident & Injury Lawyers, we offer free, no-obligation initial consultations so there's no cost or risk for you. Contact us in Eau Claire to set up a consultation and discuss your potential injury claim.
Results At Nicolet Law
"
Russell Nicolet represented me for a personal injury case. He was kind, compassionate, and professional. He made my concerns his concerns. He was quick to respond to my calls and emails. He kept me up
 to date on the progress of the case. Every interaction with Russel and his staff was a positive experience. If you are looking for a personal injury attorney, I highly recommend Russell, or his colleagues at Nicolet Law.
"
"
Eureka!! All of my questions were answered and although my situation doesn't warrant legal representation I am moving forward with quality resources and the added confidence that I received know
ledgeable and professional advice.
"
Our personal injury lawyers at Nicolet Law Firm have faced all types of personal injury cases. The negotiating, settling and litigating we've done over the past 12 years throughout Wisconsin and Minnesota have resulted in millions of dollars won for our personal injury clients. These results and testimonials represent the dedication and care our attorneys have toward our clients and their cases.
Types Of Personal Injury Claims
Injuries that occur due to a negligent person, business, or government may lead to a personal injury claim. Our lawyers in Eau Claire handle the following types of injuries and accidents:
Motorcycle accidents
Neck and back injuries
<iframe width="200" height="113" src="https://www.youtube.com/embed/rAr7E0jKZoY?feature=oembed" frameborder="0" allow="accelerometer; autoplay; clipboard-write; encrypted-media; gyroscope; picture-in-picture; web-share" allowfullscreen title="Eau Claire | Wisconsin Personal Injury Lawyers | Nicolet Law Office"></iframe>
Why Do I Need An Eau Claire Personal Injury Lawyer?
Insurance companies may try to take advantage of victims who aren't legally represented by making low settlement offers among other tactics. It's important to contact a lawyer who specializes in personal injury so you can get the compensation you deserve. There is no doubt that the insurance company will have a skilled team of lawyers looking out for their interests; you deserve the same.
What Is The Process For Seeking Compensation?
Here's a general list of the steps you might go through for an injury caused by another party's negligence:
Consultation and case evaluation
Investigation
Determining compensation
Filing an insurance claim
Filing a personal injury lawsuit
Note: Not all cases result in a lawsuit; it depends on the insurance company's response to your claim. If you and your attorney find the insurance company's offer acceptable for your situation, the claims process is over.
Personal Injury Fees
When working with Nicolet Law Firm, our legal services are on a contingency fee basis. This means that you do not owe an attorney fee unless the case is won at trial or through a settlement, at which time we collect 33%. Make sure all contingency fees are in writing and include provisions for out-of-pocket expenses.
Personal Injury Damages
While the specific damages for individual cases differ, the most common damages in personal injury include medical costs, lost wages, and pain and suffering:
Medical: People injured due to the negligence of others may recover their medical costs in a personal injury claim. This may include emergency services, ambulance fee, hospitalization, surgery, medication, physical therapy, rehabilitation equipment and other treatment related to the injury. With injuries that have ongoing medical costs, future medical expenses will be considered along with the initial medical bills.
Lost wages: If your injuries cause you to miss work, you can recover the lost income via your personal injury claim. A victim not being able to go back to work, needing to reduce hours or having to change professions due to the injury, may lead to a claim of loss of future wages as well.
Pain and suffering: Some additional losses that victims have to endure include pain, suffering, emotional distress and loss of enjoyment of life. These noneconomic losses are harder to determine, but any experienced personal injury lawyer will ensure that they are considered for the victim's compensation.
An Eau Claire Personal Injury Law Firm With A Convenient Location
Nicolet Law Office is located at 402 Graham Avenue in downtown Eau Claire, less than 10 minutes east of Interstate 94. We chose our office location because it is conveniently located for all of the residents of the Eau Claire area, including those in nearby Chippewa Falls, Ludington, Menomonie and Augusta. You can reach our office by using the following driving directions:
From the north: Take US-53 S toward La Crosse. From US-53 S, take Exit 89 for River Prairie Drive. At the end of the exit ramp, turn right onto River Prairie Drive and follow to a left turn onto Galloway Street. From Galloway Street, turn left onto North Farwell Street. Follow North Farwell Street to the fourth right onto Main Street. From Main Street, take the third left onto Graham Avenue. Our office will be on your right.
From the east: Take WI-29 west toward Menomonie. From WI-29 W, take Exit 75A to merge onto US-53 S toward Eau Claire. From US-53 S, take Exit 89 for River Prairie Drive and turn right onto River Prairie Drive. Continue on River Prairie Drive and then take a left onto Galloway Street. Follow Galloway Street to a left turn onto North Farwell Street. Follow North Farwell Street to the fourth right onto Main Street. From Main Street, take the third left onto Graham Avenue. Our office will be on your right.
From the west: Take I-94 E toward Eau Claire. From I-94 E, take Exit 59 to merge onto WI-312 E toward US-12. From WI-312 E, take the ramp onto US-12 E/North Clairemont Avenue. From US-12 E, turn left onto Cameron Street. Follow Cameron Street onto Madison Street. From Madison Street, turn right onto South Barstow Street. Then, turn right on Main Street, and take the next left onto Graham Avenue. You will see our office on your left.
If you are traveling via Eau Claire Transit's bus service, you can reach our office from either the Barstow and Gibson stop or the Graham and Grand stop. Neither stop is more than a two-minute walk from our office.
<iframe width="200" height="113" src="https://www.youtube.com/embed/UWQcllBhM6A?feature=oembed" frameborder="0" allow="accelerometer; autoplay; clipboard-write; encrypted-media; gyroscope; picture-in-picture; web-share" allowfullscreen title="Wisconsin &amp; Minnesota&#39;s Award-Winning Injury &amp; Accident Lawyers | Nicolet Law"></iframe>
Common Types of Accidents, Injuries, and How Much They May Cost
If someone else's careless actions in Eau Claire cause an accident that results in severe injuries to you, then you may have grounds to file a personal injury claim seeking financial compensation.
Nicolet Law Office represents victims of personal injuries in Eau Claire in pursuing those claims, whether they involve motor vehicle accidents on Highway 53, or preventable falls at a Barstow Street business, or any other preventable accident that can harm someone.
Common Types of Accidents We Handle
At Nicolet Law Accident & Injury Lawyers, our team represents victims of a wide range of accidents in Eau Claire.
Car Accidents
<iframe width="200" height="113" src="https://www.youtube.com/embed/oxJmA0--j7o?feature=oembed" frameborder="0" allow="accelerometer; autoplay; clipboard-write; encrypted-media; gyroscope; picture-in-picture; web-share" allowfullscreen title="Wisconsin Car Accident Claims in 10 Steps | Nicolet Law"></iframe>
Distracted drivers, drunk drivers, and drivers who simply ignore the rules of the road can all put you at unreasonable risk of suffering severe injuries on the streets and highways of Eau Claire. Car accidents are a leading cause of unintentional injuries, many of which can lead to substantial, ongoing costs in your life.
Motorcycle Accidents
Even if you wear a helmet and other protective gear (as recommended by the Wisconsin Department of Transportation), you run the risk of suffering brain trauma, spinal cord injuries, road rash, and other severe injuries in an Eau Claire motorcycle wreck.
Trucking Accidents
Big trucks, because of their greater overall size, can cause more severe injuries than typical passenger vehicles. Eau Claire trucking accidents, especially those that occur on major thoroughfares like Hwy. 53 and I-94, may inflict severe injuries like dislocations, traumatic brain injury, and spinal cord injuries.
Drunk Driving Accidents
Despite the state's strict anti-drunk driving laws, drunk drivers still cause accidents in Eau Claire far too often. Alcohol slows drivers' reaction times, disrupts their motor skills, and impairs their judgment, all of which can result in deadly accidents that leave victims badly injured or worse.
Slip and Fall Accidents
Icy sidewalks are not the only spots in Eau Claire where residents risk falling and getting hurt. Commercial, residential, and public property owners have a duty to keep their premises safe for visitors and to warn others of potential dangers. A hazardous property condition, from ice to spilled liquid to loose floorboards and railings, can precipitate a fall that results in serious injuries.
Dog Bites and Animal Attacks
Wisconsin law holds dog owners liable for injuries their dogs inflict by biting someone. All pet owners in Eau Claire can also face liability for failing to control their pets in a manner that prevents harm to others.
Common Eau Claire Injuries and Their Costs
With a combined 108 years of experience under their belts, the lawyers of Nicolet Law Firm have represented victims of a wide range of injuries. Some of those injuries burden their victims with a lifetime of disability, health challenges, and unplanned-for expenses.
Here are some common injuries, and costs, for which Eau Claire accident victims seek our help.
Traumatic Brain Injury (TBI)
A TBI can leave an Eau Claire victim struggling with profound cognitive, emotional, and physical difficulties. The medical costs alone of addressing the varied and evolving complications of a TBI can run into the millions of dollars, according to researchers. In addition, a traumatic brain injury can impair a victim's ability to earn a living, which adds further cost to the already substantial financial toll the injury can take.
Spinal Cord Injury (SCI)
An SCI frequently causes permanent paralysis and loss of sensation below the site of the injury on the victim's spine. A victim will often face a life transformed by reliance on a wheelchair for mobility, by long-term health complications associated with paralysis, and by the need for significant modifications to home and workspaces to accommodate the disability.
The cost of a spinal cord injury that results in high tetraplegia can run as high as $1 million for the first year of treatment alone, and patients face an average of nearly $200,000 in medical bills for the rest of their lives according to spinal cord injury advocates. Even incomplete spinal cord injuries can cost nearly $350,000 for the first year of treatment.
Broken Hip
Slippery surfaces in Eau Claire put elderly residents, in particular, at risk of falls that result in a broken hip. For many seniors, suffering that injury can trigger a cascade of health complications that put their lives at risk.
The estimated cost of treating a hip fracture runs around $81,000. Because some patients may never fully recover from a hip fracture and its subsequent health challenges, however, a hip fracture can also necessitate the expense of long-term nursing care, which can run into the hundreds of thousands of dollars.
Burns
In addition to suffering agonizing pain, facing the risk of a deadly infection, and living with disfiguring scarring, Eau Claire burn victims may need to undergo extensive and expensive care at a specialized burn center, such as those in Madison, Milwaukee, or the Twin Cities. Burns can cost more than $200,000 to treat. Victims with severe burns may end up paying more than $1.5 million for their treatments.
Dog Bites
Treatment for dog bites can cost as much as $30,000. Dog bites can, in addition to breaking the skin, cause severe trauma to the muscle, tissue, and bone beneath. Because of the strength of a dog's jaws, many victims suffer severe crushing damage in addition to puncture wounds. Sometimes, victims may need surgery to repair ligaments and tendons damaged by the bite. Other times, victims may need to pursue plastic surgery to help remove scarring.
Amputations
Amputation changes a victim's life. It causes physical pain, of course. But, it also takes a heavy emotional toll by literally transforming a victim's body and reshaping how the victim can interact with the world.
A single limb amputation can cost over $70,000. Following that initial surgery, many patients will need revision surgeries, which may reshape the stump and remove more of the limb. Each surgery may add to the cost faced by the victim. In addition, many amputees, especially those who lose a leg, choose to use prosthetic devices to increase mobility and independence.
Depending on the complexity of a prosthesis, it may cost between $5,000 and $50,000. Amputees may also need to calculate the cost of a wheelchair or crutches to aid in mobility when not using a prosthesis. Most prosthetics require regular replacements, since on average, they last only about three to five years.
Frequently Asked Questions About Personal Injuries
Can I sue for my Eau Claire personal injuries?
It depends on what happened. Generally speaking, Wisconsin law gives you the right to take legal action seeking compensation for any injury that results from someone else's careless, reckless, or intentional actions.
A free consultation with a member of the team at Nicolet Law can help you explore your options for pursuing personal injury compensation.
How much is my Eau Claire personal injury case worth?
That also depends on what happened to you. In general, the value of a lawsuit depends on three factors:
The severity of your injuries and, in turn, the cost of your medical care, the impact on your earning ability, and the overall effects of the injuries on your enjoyment of life.
The strength of the case you have against the parties who owe you damages, measured by the amount of evidence your attorney can collect and use, and the degree of dispute that might arise over what the evidence shows.
The funds available to pay you, which might consist of insurance carried by the at-fault party, or that party's personal or business assets.
Hiring a skilled lawyer with a reputation for getting results puts you in the strongest possible position to secure the compensation you deserve.
How much do your Eau Claire personal injury lawyers cost?
An initial consultation with an experienced personal injury lawyer from Nicolet Law Office, S.C. is always free-of-charge. In addition, we represent our personal injury clients on a contingent fee basis. That's when we work in exchange for a percentage of the money we succeed in recovering for our client. Our client pays us nothing, in other words, unless we deliver results.
Our Eau Claire Personal Injury Lawyers Are A Part Of The Community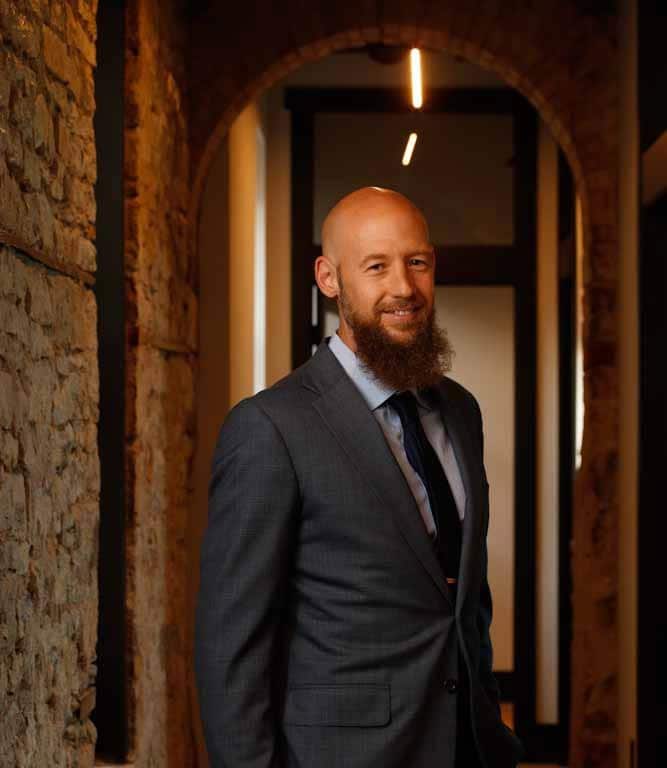 While we decided to open our Eau Claire personal injury practice to help people who are going through tough parts of life – whether an injury, disability, or bankruptcy – there's another reason that we are so proud of the work that we do. That reason? We're not just helping people in general, we're helping our fellow community members; our friends, our neighbors, and those who chose to put down roots and live in the same area we do. We are deeply honored to be able to fight for the interests of our fellow citizens of Eau Claire and members of other nearby communities throughout western Wisconsin.
Interested in learning more about how else we serve the community? Check out our Community Involvement page.
Call Our Experienced Eau Claire Personal Injury Lawyers Now
The award-winning trial lawyers at Nicolet Law Firm understand the strain and difficulty an unexpected injury can cause. We're here to help. Through determined advocacy and a commitment to client service, we secure fair compensation for clients injured in a wide range of accidents and incidents in Eau Claire.
Contact us online or call our Eau Claire office at 715-226-6149 to learn how we can help you.
Eau Claire Office
402 Graham Ave.
Suite 305
Eau Claire, WI 54701
Phone: 715-226-6149