The mere thought of a child injury is horrific. Here in Eau Claire, child injuries continue to happen more often than they should, with often unfortunate outcomes.
As much as we should all protect children, accidents still occur. Children being injured in car accidents, pedestrian accidents, or on school playgrounds are far too common in our city.
What should you do if one of those scenarios injured your children? It's time to think about getting legal representation to secure the compensation to pay your child's medical bills.
Our Eau Claire child injury attorneys at Nicolet Law Accident & Injury Lawyers can help you.
Types of Child Injuries
While unpleasant to think about, children can become injured in numerous ways here in Eau Claire. In many cases, it's the fault of a negligent adult not following the expected duty of care.
Some examples include:
Vehicle Accidents
Children are injured all too often in car accidents. While booster seats and child seats are required for all kids under 8 in Wisconsin, many negligent adults still make mistakes. Due to life being stressful, sometimes parents or other relatives forget to place their child in an appropriate child seat.
All it takes is a head-on collision or other car accident to potentially injure that child for life. In too many cases, this means fatalities if the child hits their head at high impact within the car interior.
Those that do survive may have permanent brain damage or spinal injuries. Imagine what this does to the livelihood of your child realizing they'll always have physical and mental handicaps.
Medical bills are sure to pile up dealing with these injuries, not including ongoing rehabilitation.
Pedestrian Accidents
Kids still have to cross busy street corners when walking to and from school every day. Due to many busy intersections and roadways here in Eau Claire, the potential for a child being hit by a negligent driver is high.
Hastings Way and Brackett Avenue is still known as the most dangerous intersection here for crossing pedestrians. Kids are hit here all too often, with various schools not too far away.
Many other crosswalks exist near or within school zones where accidents happen all year long. Children riding bikes through these areas are just as vulnerable, often causing horrific head injuries and broken bones afterward.
Playground Accidents
Numerous popular playgrounds exist throughout Eau Claire. Some well-known playgrounds here include Putnam Heights Elementary School and Carson Park. Any of these locations could see accidents occur, leaving the school or park management officially responsible.
When a playground accident does occur, it's sometimes due to a lack of maintenance on the playground equipment. However, it's not always the equipment that's the cause. Sometimes it's a guardian letting the child do something on the playground apparatuses that isn't allowed.
An injury like this might leave a parent, relative, or other guardian responsible for the child's injuries.
Medical Malpractice
No one wants to see their child face a medical mishap while in a medical facility. During a simple medical procedure, something might go awry, causing your child new or further injuries.
These situations are often devastating, leading to impairments that change lives in mere minutes. Some medical establishments try to minimize what happened afterward through their insurance companies.
You deserve justice for your child after facing medical malpractice. Our firm deals in that, and many other child injury categories.
Your First Step After Your Child is Injured
The first thing to do after your child suffers a serious injury is to get them the medical help they need first. Time is always of the essence when it comes to getting medical treatment for children, especially if any internal injuries.
As soon as they're under good medical care, it's time to think about the future. How will those injuries affect the welfare of your children as they grow older? What kind of financial future does your family face after all of your child's medical bills?
These and numerous other questions are likely racing around in your head right now. Your best move is to call us now to get legal representation going. Once you agree for us to represent you, we go to work immediately to start investigating your case.
One of our first steps is to visit the accident scene. How was your child hit, and who is responsible? Gathering evidence there is the next step in proving how the accident occurred and who should take the blame.
The Evidence
What evidence will we gather at the accident scene? It usually starts with any physical remnants still available. In car accidents, pieces of your car are perhaps still lying in the street. We'll gather these fragments to use as evidence.
Taking photographs of the accident scene is also important; visual proof is always more compelling if ever presented to a jury.
We'll also interview witnesses in the area who saw the events unfold in real-time. Did they see a car, truck, or other vehicle hit your child? Perhaps they saw faulty playground equipment injure your child.
Those witnesses are sometimes able to capture visual evidence on their smartphones, something more ubiquitous in the age of mobile devices. Our task is to acquire this footage from witnesses to build the strongest case possible.
Security camera footage is also occasionally available. Traffic cameras can even be found at some intersections here in Eau Claire. Footage from those is often easier to acquire due to being in a public place.
Your Child's Medical Bills
Our next task is to acquire all your child's medical bills and records. Having these in our possession allows us to prove to the insurance company how severe your child's injuries are.
After their medical procedures, x-rays, and scans, it should paint a vivid picture of what the accident caused in the way of internal and physically apparent injuries.
It's important we gather these records and put them in safekeeping. Once we have them, it becomes valuable evidence to use in numerous capacities. Plus, it's possibly not the end of your lifetime injury costs.
By the time you submit a personal injury claim for your child, more bills and medical records are probably available. The point is to also show your medical bills aren't going to stop after just a few months.
Considering your child may have ongoing health issues, other medical bills may continue for years to come. Chances are, your family may deal with paying those bills well into adulthood.
Negotiating With the Insurance Company
Unfortunately, insurance companies frequently try to minimize the severity of injuries based on the evidence presented.
They'll also try to contact you by phone or another method to get you to settle early. Being in the financial situation you're in with your injured child, it's always easy to feel tempted to take the first settlement offered.
Avoid taking an early settlement without first speaking with an Eau Claire child injury lawyer, since it's likely not enough to pay all the future medical bills your child faces. Being a parent or close relative, being responsible for those bills could turn devastating for the entire family without substantial compensation.
Our experience is vast in dealing with insurance companies. Let us do all the negotiating for you, including handling all communications. Never speak to the insurance company without counsel.
During the negotiation process, we'll keep you communicated on all settlements offered. You ultimately decide which offer you take.
What might you expect with that settlement, though?
Settlement Expectations
We invite you to look at our case results page to show you examples of past successes. Yet, keep in mind all child injury cases are different, and past results are no guarantee of future outcomes.
You can count on us working tirelessly on behalf of our Eau Claire community. When it's for the welfare of children, we're going to serve justice.
Too many children continue being wronged by bad actors. Your evidence provides proof that a negligent company or person seriously injured your child, and needs to take financial responsibility.
Sometimes insurance companies refuse to budge on giving people like you a proper settlement figure. During those times, we're not afraid to fight for what you deserve. It may mean going to trial.
Presenting evidence to a jury is often valuable because you're telling a personal story that many people can relate to. Many people selected on juries experience similar life situations of a child suffering injuries. Telling your story to them could result in a more favorable outcome for your case.
Punitive Damages
When the injuries your child experiences stem from an intentional disregard for the safety or rights of others, you may receive punitive damages. While more rarely awarded, these circumstances can sometimes warrant them.
Drunk Driving
Someone responsible for transporting your child was possibly drunk while behind the wheel. Or, a drunk driver may hit your child while they're walking.
Scenarios like this may suggest reckless misconduct in their actions, meriting punitive damages.
Distracted Driving
Drivers can experience distractions in various forms, but it's never an excuse to not pay attention to the road. A driver perhaps felt distracted due to a passenger talking too much or listening to music too loudly on the radio.
Other times, it's from exhaustion. It's another reminder no driver should get behind the wheel if they feel too tired to drive.
Failed Duty of Care
Bus drivers and other drivers of vehicles transporting kids have a duty of care they need to uphold. Breach of this is grounds for a civil lawsuit. No matter how the accident happened, negligence comes in many forms from careless behavior.
Sometimes, our clients pursue their claims to send a stronger message to not let it happen again to any other child.
Is Eau Claire Particularly Vulnerable to Child Injuries?
Eau Claire is known for being a big school town with 23 schools located in the area. Even if that's common in other cities, having 23 of them means more kids walking around in busy traffic areas.
It increases the likelihood of a child being hit by a vehicle, or possibly injured on a school bus. Still, child injuries can happen virtually anywhere here.
Something as simple as visiting a grocery store can even pose various dangers for your child when the business is overly negligent in keeping customers safe.
Get Legal Help Now From Our Eau Claire Drunk Driving Accident Attorneys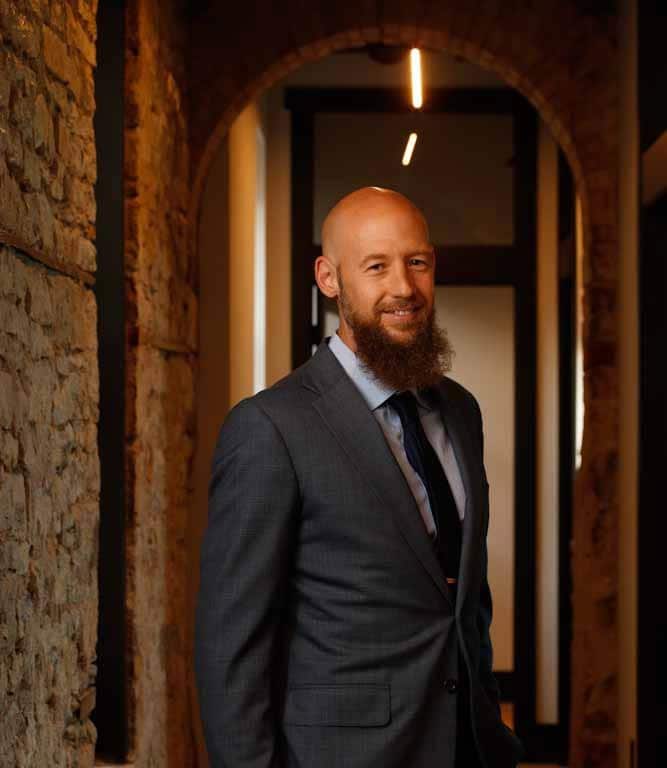 At Nicolet Law Accident & Injury Lawyers, our founder, Russell Nicolet, is known for his commitment to helping our local communities deal with complicated legal issues. In our law firm, he has kept that same philosophy is intact, taking on the toughest cases, like child injuries.
Contact Nicolet Law Accident & Injury Lawyers at (715) 226-6149 immediately if any accident injured your child in Eau Claire.
Eau Claire Office
402 Graham Ave.
Suite 305
Eau Claire, WI 54701
Phone: 715-226-6149