Woodbury Child Injury Lawyers
As a parent or guardian, your priority is your child's safety. You take every precaution to ensure your child is out of danger's way. You trust your child's caretakers, teachers, and other responsible adults to prioritize the security of your child when they are in their care. Unfortunately, preventable accidents can happen. If your child was unnecessarily injured, you just want justice and to protect your child's rights. Contact our Woodbury child injury lawyers today for a free consultation.
Hire a Woodbury Child Injury Lawyer From Nicolet Law Accident & Injury Lawyers
Our legal team understands the impact an injury can leave on a child and their family. Watching your child suffer through a serious injury is difficult as a parent, and when those injuries have far-reaching impacts on their life, you can fear for their future. We work hard to protect the rights of our minor clients and seek the compensation necessary to meet their future needs.
<iframe width="200" height="113" src="https://www.youtube.com/embed/HjPVrq6eOz0?feature=oembed" frameborder="0" allow="accelerometer; autoplay; clipboard-write; encrypted-media; gyroscope; picture-in-picture; web-share" allowfullscreen title="Why Nicolet Law Should Be Your First Choice | Nicolet Law Office"></iframe>
Why Are Children Particularly Susceptible to Accidents?
Children are not fully capable of protecting themselves, and because they are small they are also at the highest risk of injury and death when they are in a serious accident. They rely on their guardians, parents, and other caretakers to keep them safe. Unfortunately, children are more prone to accidents than most other age groups.
Curiosity
By nature, children and young adolescents are curious and want to experiment and figure things out for themselves. Unfortunately, when the adults responsible for their safety fail to take proper precautions, children can suffer the consequences of the caretaker's negligence. Children require supervision and guidance appropriate to their age, maturity, and mental development.
Less Coordinated
Unlike older teens and adults who have more developed coordination and motor skills, children have not yet developed these skills, which can put them at a higher risk of injury if their safety is threatened. A child cannot react and respond appropriately to danger.
Smaller Size
The small size of a child puts them at risk of accidental injury for various reasons. For one, their size and height can make it difficult for others to see them. They also can't withstand the same forces as an adult. This can make them more prone to serious injuries and put them at risk of death even in accidents that might be minor for a full-grown adult.
Where Do Most Child Injury Accidents Happen?
Children can have accidents anywhere. Adults often think that accidents just are a part of growing up. While minor bumps and bruises during playtime and sports are expected, serious injuries due to a preventable accident are not a normal or necessary part of childhood. If your child suffers an injury in an accident caused by someone else, you may be able to hold the at-fault party liable for the damages your child and your family have suffered.
The CDC estimates that children are involved in more than 9.2 million hospital visits each year for what they label as unintentional injuries. Unintentional injuries can happen in many situations, but the leading culprits of these injuries are traffic accidents, drownings, burns, and falls. More than 12,000 children under the age of 19 lose their lives due to avoidable accidents every year.
The most common locations of childhood accidents include:
Home;
A relative or friend's house;
School;
Daycare;
After school activities;
A playground;
In a vehicle; and
Around the child's neighborhood.
The most common causes of negligent child injuries include:
Motor vehicle accidents - Car accidents happen every day and children are often vehicle passengers. Due to their size and position in a vehicle, children are at high risk of severe injury from motor vehicle crashes. In fact, motor vehicle crashes are the leading cause of death for children in the U.S.
Pedestrian accidents - Children often play outside and travel to and from school on their bicycles or foot. Unfortunately, reckless drivers are not always aware of the presence of children along the road, and vehicles sometimes strike kids as they cross intersections or travel along their neighborhood roads. Even pedestrian and bicycle accidents at low speeds can be fatal to a child. Their height often puts them at risk of critical injuries from the impact.
Falls - Playgrounds, stairs, and elevated platforms can pose serious risks to a child. Their perception of danger and height off the ground is generally not as developed as an adult's, which puts them at risk of falls and injuries. Many child emergency room visits are due to falls suffered during everyday activities.
Burns - Open flames, chemicals, and other heating elements can be dangerous, especially to young children. Lack of supervision and access to dangerous materials can exponentially increase the likelihood that a child will suffer a burn injury.
Recreational accidents - Sports, ziplines, trampoline parks, and other recreational activities such as rides on ATVs, snowmobiles, and personal watercraft are appealing entertainment for kids, but they can also pose a great risk of injury. Many of these activities are inherently dangerous and without the right precautions or safety equipment, your child could suffer serious, preventable injuries.
Dog attacks - As children play in the neighborhood, parks, your driveway, or walk to school or a friend's home, they may encounter a loose dog or a familiar dog that reacts unexpectedly. Unfortunately, because of their small size, children can catch aggressive dogs by surprise, and dogs can prey on them. Children are common victims of dog bites and attacks; in some cases, these encounters can be deadly or cause permanent damage to a child.
Potential Liability in a Woodbury Child Injury Case
If your child was injured through no fault of their own, you likely feel angry, frustrated, and want answers from the responsible party. Figuring out who was actually at fault in a case where a child was injured can be complicated.
In some instances, fault may be obvious, such as if a negligent driver struck a child on the road. But in other circumstances, such as if your child received care in a group setting or from multiple responsible adults, you cannot easily get the answers you need. While at least one negligent individual was probably responsible for your child's injuries, more than one party may bear legal liability.
Parties that may be liable in a child injury case include:
A relative;
A friend;
The parent of another child;
A teacher;
A property owner;
Another caregiver;
A babysitter;
A church;
Your child's school;
A camp or camp counselor; and/or
A product or equipment manufacturer.
Negligence in a Woodbury Child Injury Accident
To prove another party is responsible for your child's injuries, you must show they acted negligently. If a party charged with the care of your child failed to protect them by putting them in danger or failing to intervene when they should have, you may prove their negligence.
To establish negligence, you must show:
The at-fault party had a duty of care to your child - This element of negligence depends on the relationship between the at-fault party and your child. If the at-fault party explicitly assumed the responsibility of caring for your child, they had a clear legal duty of care for your child. This can be a teacher, relative, instructor, friend, or company, for example. There are other situations in which someone may have had a legal duty of care to your child, as well. For example, a driver has a duty of care to everyone else around them on the road to follow traffic laws and drive safely.
The at-fault party breached their duty of care - In this element of negligence, you must show that the at-fault party, through either their actions or inaction, breached the duty of care they owed to your child. If you can show that the individual failed to supervise or take steps to protect your child from danger, you can likely prove that they violated their duty of care. Similarly, if a driver broke a traffic law or was driving recklessly and injured your child, you can likely prove that they violated their duty of care.
The at-fault party harmed your child - It is not enough that the individual responsible for the care of your child acted recklessly. You must also show that your child suffered an injury or harm as a result.
Your child's injury directly resulted from the at-fault party's negligence - For this final step, you must prove that your child's injuries directly resulted from the at-fault party's actions.
Let our Woodbury Child Injury Lawyers Protect Your Child's Rights After an Injury
Parents of injured children may hesitate to seek help after an accident because they don't know their child's rights. After all, a child does not pay their own bills or earn an income. However, a child has a right to seek compensation for their damages just like anyone else someone else's negligence harmed. While a child's damages will differ greatly from an adult's, they are still entitled to recover compensation for their pain and suffering and the impact the injury has on their day-to-day life.
As a parent of a minor child, you also have rights following an accident that injured your child. You are the primary caretaker and guardian of your child. The expenses for their care, the time you miss from work to care for them, and the other impacts to your family because of the accident are also damages you can seek to recover from the at-fault party.
In most instances, some form of insurance coverage will apply to an accident and your child's injuries. You have a right under the law to seek guidance from an attorney to represent your child's interests as well as your own in a personal injury claim or lawsuit. While many people first try to settle their case on their own with an insurance company, this can hurt you and your child—badly. The reality is that insurers will almost always try to shortchange you and your child in the settlement negotiation process. The extent of your child's injuries and the effects those injuries will have on their future is not clear in the days and weeks after an accident.
Accepting an insurance settlement too quickly and without assistance from an attorney can mean that you miss out on the maximum compensation you deserve. In some cases, insurers or at-fault parties may try to deflect blame onto you or your child. It is not uncommon for insurance companies to deny a claim entirely or make extremely low settlement offers in the hopes that they will be able to minimize their payout.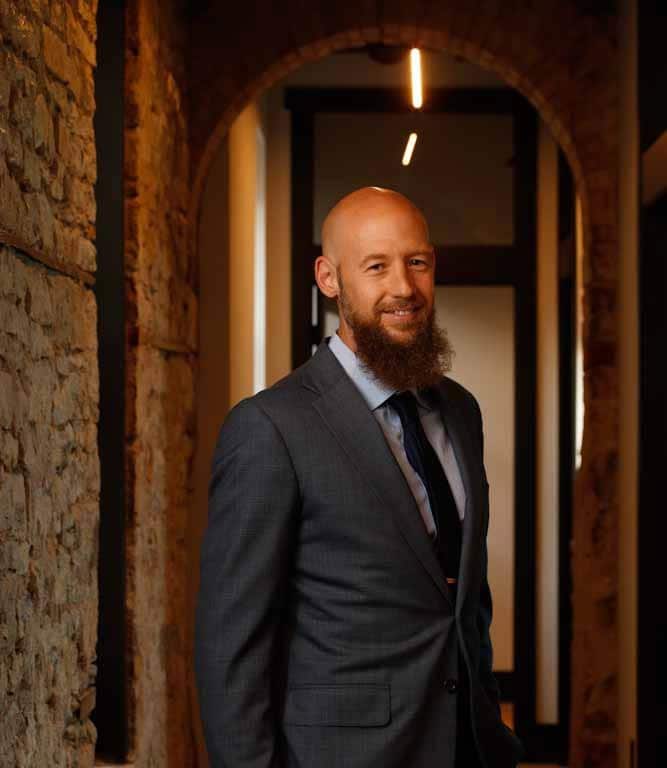 The legal damages in cases where a child was injured can include:
The medical expenses for the child;
Parents' lost wages;
Education expenses if your child requires specialized care;
Pain, suffering, and emotional distress;
Impacts on a child's quality of life;
Future expenses that may be necessary for medical care and other injury-related costs; and
The wrongful death of your child, which can include expenses for end-of-life care and funeral costs.
If someone else's negligence injured your child, contact our office at (651) 358-2531 for a free evaluation of your case and to discuss your legal options.
"
Russell Nicolet represented me for a personal injury case. He was kind, compassionate, and professional. He made my concerns his concerns. He was quick to respond to my calls and emails. He kept me up
 to date on the progress of the case. Every interaction with Russel and his staff was a positive experience. If you are looking for a personal injury attorney, I highly recommend Russell, or his colleagues at Nicolet Law.
"
"
Eureka!! All of my questions were answered and although my situation doesn't warrant legal representation I am moving forward with quality resources and the added confidence that I received know
ledgeable and professional advice.
"