Woodbury Slip and Fall Accident Lawyer
You can fall and get hurt just about anywhere in Woodbury, Minnesota. It can happen while shopping at Woodbury Lakes, Valley Creek Mall, or the Walmart Supercenter, visiting a friend's house in Dancing Waters, walking in Ojibway Park, or dining at a Tamarack Road restaurant.
No matter where a fall happens, however, the injuries it causes can disrupt your life and devastate your finances.
If you fell and got hurt on someone else's property in Woodbury, you need a knowledgeable slip and fall accident attorney to advocate for your rights and get you the money you need to heal and move on with your life. At Nicolet Law Accident & Injury Lawyers, our team dedicates itself to the needs of our clients. We understand the difficulties that you face as a victim of a slip and fall and want to help you seek a positive outcome in your case. Contact us today to learn how we can help.
We Get Results for Clients in Slip and Fall Cases
While money cannot undo the harm you suffered in a slip and fall, it can help you move forward in your life and meet your financial needs as you recover and heal. Our team fights for the compensation our clients deserve after a preventable slip and fall injury.
Recent results in slip and fall cases we've handled include:
A $335,000 settlement for the injuries of a victim of a slip and fall
$200,000 recovery for a victim initially only offered $5000 by an insurance company
Compensation for an individual that was the victim of a slip and fall due to icy conditions at a gas station
Our past successes do not guarantee future results, of course. But they do reflect our team's determined commitment to securing maximum compensation for every client we represent. With Nicolet Law Accident & Injury Lawyers on your side, you have an attorney who knows how to get results in even the most challenging cases.
Overview of Slip and Fall Accidents, Injuries, and Liability
According to the National Floor Safety Institute (NFSI), roughly one million emergency room visits in the United States every year result from preventable falls. Many more Americans suffer injuries that do not rise to the level of emergency treatment but still require medical assistance and care.
Lawyers use the term "slip and fall" to refer to injuries in preventable falls, but that does not mean that you only have a case if you slipped before you fell. Any preventable fall on a property you do not own, no matter what triggers it, can constitute a slip and fall accident for which you may have a right to receive compensation.
Under Minnesota law, property owners, occupants, and managers in Woodbury have a legal duty to keep their premises safe for visitors. The scope of that duty can vary depending on the circumstances, but in general, someone in charge of a property must fix and warn visitors about any unreasonably dangerous condition on the property that could cause someone to fall and get hurt.
Property owners and occupants who fail to live up to that duty may owe damages to anyone who falls and gets hurt because of a fall hazard on their properties. Other individuals, businesses, or institutions may share in that liability if their decisions or actions contributed to the dangerous condition that led to a harmful, preventable fall. For example, the manufacturer of flooring materials that, because of their design, pose a particular risk of becoming slippery and dangerous, could owe liability to someone who fell on a floor made from that material.
At Nicolet Law Accident & Injury Lawyers, we make it our mission to root out every potential party who may owe damages for causing a preventable fall that injured our clients. We leave no stone unturned in our pursuit of justice for injured fall victims.
Common Causes of Slip and Fall Accidents in Woodbury
Countless property-related hazards can trigger a slip and fall.
Here are some common, but dangerous, property conditions that can lead to a preventable fall and injury, and legal liability, at a commercial, public, or residential property in Woodbury:
Uneven walking surfaces - A loose floorboard, torn carpet, or crack in a concrete walkway can easily trigger a fall. Property owners and others must fix and/or warn visitors about any hazards created by uneven surfaces.
Slippery surfaces - Spilled liquids, rain tracked indoors, ice on a sidewalk, and similar hazards regularly lead to preventable falls. Property owners must take reasonable action to address these hazards, such as by posting warning signs, promptly mopping spills, and salting icy sidewalks and walkways.
Inadequate supervision - The law does not require a property owner to supervise all individuals that come onto their property. However, certain members of the public, such as young children and the elderly, need guidance or assistance when moving around. Slip and fall accidents at institutions such as nursing homes and schools can occur when those entities fail to supply adequate supervision.
Inadequate accommodations - A federal law called the Americans With Disabilities Act (ADA) requires many businesses and institutions to make their facilities accessible to persons with disabilities by installing accommodations, such as ramps, railings, or elevators. A fall resulting from a lack of such accommodations at a property may result in liability for the property owner.
Debris or obstacles - Cables, wires, or other debris on the ground anywhere a property visitor may walk constitute a serious fall hazard. Property owners must clear walkways of clutter and warn visitors of hidden dangers.
Insufficient lighting - A lack of lights or low-quality light levels are a common cause of slip and falls in dark spaces or during the evening hours. A property owner must be aware of accessible areas of their property that require lighting and maintain the lights for safety and to prevent a slip and fall accident.
Loose, broken, or missing railings - Stairways, walkways, balconies, and other areas that present a known fall danger should have adequate handholds. Property owners and occupants who fail to fix loose or broken railings, or fail to install them where they're needed, may face liability for a slip and fall.
This is not a complete list, of course. At Nicolet Law Accident & Injury Lawyers, our job is to secure compensation for victims of slip and fall accidents in Woodbury no matter the cause. Contact us for a free consultation about the cause of a preventable fall that injured you or a loved one, and about who may owe you damages as a result.
Slip and Fall Injuries
Falls on commercial, public, and residential properties throughout Woodbury can inflict serious injuries that cause immense physical, emotional, and financial harm to fall victims and their families.
The Nicolet Law Accident & Injury Lawyers team has the know-how and resources to secure maximum compensation for fall victims who have suffered:
Traumatic brain injuries (TBI), which frequently occur when fall victims strike their heads on hard surfaces. A TBI can result in long-term motor, cognitive, and emotional impairments that disrupt a fall victim's ability to work, go to school, or engage in everyday activities.
Spinal cord injuries (SCI), which often result in paralysis and a loss of sensation and bodily function, leading to long-term health complications and forcing fall victims to rely on expensive wheelchairs and other mobility devices for their independence.
Broken arms, wrists, legs, and other bones, some of which may heal over time with proper medical care, but which nevertheless cause significant pain and loss of mobility. Serious bone breaks can require surgery and extensive rehabilitation, and may yet leave victims battling permanent physical limitations and chronic pain. Hip fractures, in particular, can pose a significant threat to the wellbeing of elderly fall victims in Woodbury by causing a cascade of serious, and even fatal, health complications.
Back, shoulder, and neck injuries, which even if they do not result in damage to the spinal cord, can still cause debilitating pain and limited mobility that keeps fall victims out of work and unable to sit or stand for extended periods.
Soft tissue orthopedic injuries, such as tears or ruptures of muscles, tendons, or ligaments in the shoulder and knee. These injuries may immobilize a fall victim for months, and can sometimes permanently rob victims of the stability and mobility they once enjoyed.
Internal injuries to organs or bleeding from trauma, which may lead to severe, and even fatal, health complications that can affect every aspect of the fall victim's life, from the foods they can eat to the activities they can pursue.
As above, this is far from a complete list of the injuries a preventable fall in Woodbury can inflict. No matter what type of injury a fall victim sustains, the team at Nicolet Law Accident & Injury Lawyers can help get them the compensation they deserve from the at-fault party or parties.
Potential Compensation for Slip and Fall Injuries
Under Minnesota law, individuals who suffer injuries and losses in Woodbury slip and fall accidents usually have the right to seek compensation from property owners, occupants, managers, and/or others at fault for what happened. Nicolet Law Accident & Injury Lawyers represent slip and fall victims in legal actions seeking that compensation.
Payment for slip and fall injuries usually comes from liability insurance carried by the at-fault party. Sometimes, payment also comes directly out of that party's pocket. In either event, to obtain that compensation, the victim—with the help of a skilled Woodbury slip and fall lawyer—will typically need to take legal action against the party who owes damages.
Every Woodbury slip and fall case differs in its particulars.
In general, however, by pursuing a formal insurance claim and/or filing a lawsuit in Washington County District Court, a slip and fall accident attorney can secure compensation for a slip and fall victim's:
Medical expenses relating to treating slip and fall injuries and any subsequent health conditions caused by those injuries, including the cost of hospitalization, long-term care, doctor visits, medication, and medical equipment.
Other expenses the slip and fall victim would not have incurred, were it not for a preventable fall hurting them, such as the cost of hiring someone to help with day-to-day tasks like childcare or transportation while the victim heals.
Lost wages and income attributable to the fall-related injury the victim suffered, which may include time missed from work while the victim was hospitalized, or the loss of future income opportunities due to the victim's injuries or disabilities.
Pain, suffering, and other non-economic damages, which may include a loss of enjoyment of life, interference with intimate relationships, or mental health struggles occasioned by living with a disability.
In some cases, the Nicolet Law Accident & Injury Lawyers team can also convince a Washington County court judge to award their client punitive damages, which aim to punish especially wrongful conduct on the part of the party with liability for causing a preventable fall.
How We Help Woodbury Slip and Fall Victims
Nicolet Law Accident & Injury Lawyers represent Woodbury slip and fall victims in seeking compensation for their injuries and losses.
The steps we take to secure money for our clients differ from case-to-case, but we have the skill and resources to:
Investigate preventable falls to determine how they happened and who should have taken reasonable steps to prevent them.
Prepare thorough and accurate complaints and demands for compensation on our clients' behalf.
Answer our clients' questions and explain their options in easy-to-understand language.
Pursue insurance claims and lawsuits for damages on our clients' behalf.
Negotiate settlements with defense attorneys and insurance adjusters whenever possible.
Take our clients' cases to court to secure judgments and jury awards in their favor.
Collect the money owed to our clients through settlements, judgments, or jury awards.
Ours is a full-service slip and fall injury law firm, and we take pride in our reputation as top-notch negotiators and trial lawyers.
Contact our Experienced Woodbury Slip And Fall Injury Lawyers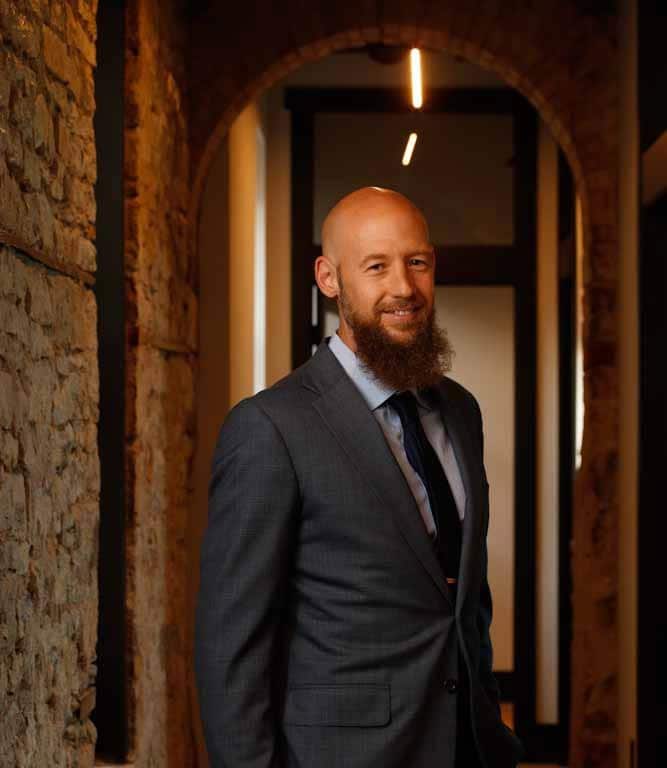 Did you fall and get hurt on a property you do not own in Woodbury, Minnesota? If so, you likely have a right to receive compensation for the harm you suffered.

We know the last thing you need right now is to take on the insurance companies and attempt to navigate the legal process. Let us handle your personal injury claim for you while you focus on getting better. Call our Woodbury office at 651-358-2531 or contact us via email to schedule your free consultation. You will owe no attorney fees until we recover compensation for you. Our office is conveniently located on Bielenberg Drive, near Tamarack Road and Interstate 494.
"
Russell handled mine and my daughters claim, after being in a car accident and I have to say what an Amazing law firm. Stayed on top of my accident claim and case, even when the other company's a
djuster did not want to cooperate in communicating. Would highly recommend. While nobody ever "wants" to be in a situation to need to have to hire an attorney, if I ever was in need again, Nicolet Law firm would be my first call.
"
"
The Nicolet lawyer was fantastic in helping me with my car accident claim. Mr. Russell Nicolet was amazing always there when you needed him and very understanding of all my issues. Hope to never ne
ed a personal injury lawyer again but if I ever do I know who I am calling.
"