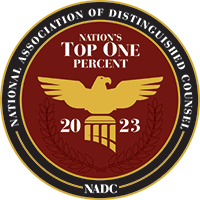 The sudden loss of a loved one can cause profound emotional turbulence and financial strain. You may need to grieve and make necessary arrangements. If someone else's negligence caused a preventable death, you and your family may recover substantial compensation for your loss.
Nicolet Law Accident & Injury Lawyers, an accomplished law firm based in Minot, helps families who have tragically lost loved ones due to wrongful death. With an excellent reputation and extensive history of successfully advocating for victims, our Minot wrongful death lawyers possess the necessary knowledge and skills to navigate the complexities of wrongful death cases.
By diligently pursuing justice and advocating for the rights of the bereaved, we strive to secure the maximum compensation to offset the costs of funeral expenses, loss of income, emotional distress, and loss of companionship.
We welcome you to contact us for a free case evaluation. With compassionate guidance and relentless dedication, Nicolet Law Accident & Injury Lawyers stands ready to navigate this challenging time.
Why Choose Nicolet Law Accident & Injury Lawyers
Choosing the right law firm to represent you in a wrongful death case can significantly influence the outcome. At Nicolet Law Accident & Injury Lawyers, we distinguish ourselves with our exceptional experience, successful track record, and unwavering dedication to our clients.
Extensive Experience and Stellar Track Record
When pursuing a wrongful death claim, you need a team that understands the nuances of this legal area. Our attorneys have successfully handled many wrongful death cases in Minot, demonstrating our experience and ability to secure consistently favorable outcomes. We know the emotional, financial, and legal challenges you face, and we apply our wealth of knowledge and years of practice to represent you in the legal process.
We provide a comfortable and professional setting where our clients can feel comfortable discussing their cases. Our proximity to the heart of the city allows us to respond quickly and meet our clients' needs effectively. We are always ready to offer our legal knowledge and compassionate service.
If you're grappling with the loss of a loved one due to a car or workplace accident, you can depend on Nicolet Law Accident & Injury Lawyers. Our experience, proven success, and convenient location in Minot make us a trusted choice for your wrongful death claim.
<iframe width="200" height="113" src="https://www.youtube.com/embed/AcP8lEwGGlM?feature=oembed" frameborder="0" allow="accelerometer; autoplay; clipboard-write; encrypted-media; gyroscope; picture-in-picture; web-share" allowfullscreen title="Drew Epperly, Managing Attorney of North Dakota | Nicolet Law"></iframe>
Wrongful Death Compensation
After a wrongful death, you might struggle with unexpected costs and financial losses. If someone else's negligence or wrongdoing caused your loved one's death, you may recover compensation. Nicolet Law Accident & Injury Lawyers can handle the legal process.
Potential Compensation in Wrongful Death Cases
Wrongful death compensation can cover a range of losses, including direct costs, such as medical and funeral expenses, and less tangible losses, such as emotional distress and loss of companionship.
The loss of future income is another significant factor, especially if the deceased was the primary breadwinner. This loss of support can put families in a precarious financial position, and appropriate compensation can help secure their future.
Nicolet Law Accident & Injury Lawyers Experience in Assessing Compensation
Obtaining compensation in a wrongful death case requires a deep understanding of the law, a keen ability to evaluate tangible and intangible losses, and the foresight to anticipate future needs.
At Nicolet Law Accident & Injury Lawyers, we have pursued wrongful death compensation for numerous families in Minot.
Our Minot wrongful death lawyers can meticulously examine your case. We consider all potential compensation, including direct financial losses and your family's emotional distress. Our ultimate goal is to get you the comprehensive compensation you deserve to alleviate your financial burden and provide some degree of solace during this difficult time.
Where Do Wrongful Death Accidents Occur in Minot?
Wrongful death accidents can happen anywhere, even in Minot, where the community is tight-knit and safety is a high priority. It's important to understand, however, that these tragic incidents often occur in specific settings.
Local Statistics and Common Causes
Wrongful deaths in Minot often occur due to car accidents or workplace incidents. While each case is unique, these appear to be leading causes of negligence-related deaths in Minot.
Transportation accidents are the most common causes of workplace deaths in North Dakota, accounting for about 30 percent of fatal accidents.
The next most common causes are equipment-related accidents and exposure to harmful materials. Car accidents led to 100 deaths in a recent year.
Nicolet Law Accident & Injury Lawyers Understanding of Local Cases
Understanding local statistics can help when seeking justice.
At Nicolet Law Accident & Injury Lawyers, our Minot personal injury lawyers have in-depth knowledge of Minot's local regulations, common accident locations, and frequent causes of wrongful deaths. This local knowledge allows us to provide personalized, strategic assistance for our clients.
We thoroughly investigate your accident circumstances, identifying liable parties and proving negligence. We aim to hold the responsible parties accountable and ensure you receive the compensation you deserve.
Understanding Wrongful Death Cases
Understanding the complexities of wrongful death cases can be difficult, particularly during a challenging time.
At Nicolet Law Accident & Injury Lawyers, we explain the various types of wrongful death cases, common injuries that lead to wrongful deaths, and how these relate to your situation.
Types of Wrongful Death Cases
Wrongful death cases span a range of scenarios, each with its unique circumstances and legal implications. Some of the most common types of wrongful death cases we handle at Nicolet Law Accident & Injury Lawyers involve:
Car accidents: Motor vehicle accidents are common causes of wrongful deaths, especially when they result from reckless driving, drunk driving, or automotive defects.
Workplace accidents: Unexpected tragedies can happen in the workplace, particularly in hazardous environments, such as construction sites and factories. These cases typically involve an employer's or coworker's negligence, inadequate safety measures, or equipment malfunction.
Common Injuries Resulting in Wrongful Death
Various injuries can lead to wrongful death, but some are more common than others, including:
Traumatic brain injuries: A blow to the head can result in severe brain damage, leading to coma or death.
Severe burns: Severe burns can lead to lethal infections or systemic shock.
Spinal cord injuries: Trauma to the spinal cord can disrupt communication between the brain and body, leading to paralysis or fatal complications.
Internal injuries: Internal organ damage can be difficult to detect but can result in critical conditions or death if you don't receive treatment.
At Nicolet Law Accident & Injury Lawyers, we have experience in handling various wrongful death cases and injuries. Our lawyers diligently investigate each case, collecting evidence to substantiate your claim to secure the compensation you need after your tragic loss.
Battling Insurance Companies
Following a wrongful death, dealing with insurance companies can be daunting. Insurance companies often focus on mitigating their financial liability, which could mean offering settlements that are significantly less than the actual damages your family has suffered.
At Nicolet Law Accident & Injury Lawyers, we can successfully take on these challenges.
The Challenges of Dealing With Insurance Companies
Insurance companies may employ several tactics to limit their financial liability, including disputing whether the injuries caused the death, questioning the circumstances of death, or offering quick, low settlements. You want our lawyers to navigate these challenges during such a distressing time.
How Nicolet Law Accident & Injury Lawyers Can Represent Your Interests
Our lawyers at Nicolet Law Accident & Injury Lawyers have extensive experience in dealing with insurance companies. With a commitment to our clients' rights and a comprehensive understanding of insurance companies' strategies, we are ready to negotiate on your behalf.
We ensure you receive adequate compensation for your loss and will not hesitate to take aggressive legal action. We endeavor to relieve your burden and provide you peace of mind during this challenging period.
You are not alone in this fight. Nicolet Law Accident & Injury Lawyers provides steadfast legal support and guidance. Contact us for information on how we can seek justice for the wrongful death of your loved one.
Steps to Take After a Wrongful Death Accident
If the unthinkable happened and you lost a loved one due to wrongful death, take the right steps to preserve your rights and strengthen your case. At Nicolet Law Accident & Injury Lawyers, we have the experience and knowledge to guide you during these challenging times.
Keep Receipts and Obtain Copies of Police Reports
When dealing with a wrongful death case, you must preserve all potential evidence. If your loved one needed medical treatment before they passed away, keep all medical bills, prescriptions, and hospital records. These documents prove the severity of the injuries, cause of death, and financial burden on your family.
In cases involving car or workplace accidents, obtain a copy of the police or incident report to strengthen your case. These reports usually contain critical details of the incident, identify potential witnesses, and sometimes include a preliminary determination of fault.
Bring Information to Nicolet Law Accident & Injury Lawyers
When you entrust your wrongful death case to Nicolet Law Accident & Injury Lawyers, our team will thoroughly analyze the pertinent information and documents to build a strong case. The details you provide will be instrumental in pursuing your claim.
With the collected evidence, our experienced lawyers can seek to prove negligence, establish liability, and accurately assess the damages you and your family deserve. In these challenging times, we are here to advocate for your rights and navigate the legal intricacies.
Contact Nicolet Law Accident & Injury Lawyers
A wrongful death is an emotionally harrowing time. Amid the sadness and struggle, you have a trusted ally in Nicolet Law Accident & Injury Lawyers. Our experienced, dedicated team is ready to fight for justice and the compensation you deserve.
At Nicolet Law Accident & Injury Lawyers, we offer a free case evaluation to discuss your case without any financial obligations. We understand every wrongful death case is unique, so we take the time to understand your situation and provide personalized legal guidance.
Are you concerned about legal fees? We operate on a contingent fee basis, so you don't pay us anything unless we obtain compensation for you.
After a wrongful death, you and your family should focus on healing. Let Nicolet Law Accident & Injury Lawyers handle the legal complexities, tirelessly work to secure the compensation you deserve, and advocate for the justice you need at this difficult time.
Contact us today at (701) 425-0984 for your free case evaluation. Let us stand by your side as we fight for justice together.
"
Russell Nicolet represented me for a personal injury case. He was kind, compassionate, and professional. He made my concerns his concerns. He was quick to respond to my calls and emails. He kept me up
 to date on the progress of the case. Every interaction with Russel and his staff was a positive experience. If you are looking for a personal injury attorney, I highly recommend Russell, or his colleagues at Nicolet Law.
"
"
Eureka!! All of my questions were answered and although my situation doesn't warrant legal representation I am moving forward with quality resources and the added confidence that I received know
ledgeable and professional advice.
"