Slip and fall accidents are common in Minot, North Dakota. The area receives a lot of snow and ice in the winter, and even during the milder seasons, you can slip, trip, or fall at a store or on someone's property.
Many people believe that the fall was their own fault, but that is not always the case. In fact, many slip and fall accidents in Minot would not have happened were it not for the property owner's negligence or carelessness.
Slip and fall accidents can cause serious injuries that require extensive medical treatments. As a result, you can incur high medical bills, or you may have to miss work to deal with your injury. Your slip and fall accident injuries can cause many other adverse effects on your life and future, and you deserve compensation from those responsible.
If you suffered injuries from a slip and fall accident in Minot, you can reach out to the personal injury attorneys at Nicolet Law Accident & Injury Lawyers for help. We will thoroughly review your case, identify the responsible parties, and fight to get the full compensation you need. Contact us today at 1-855-NICOLET for your free consultation.
Why Choose Us for Your Minot Slip and Fall Injury Claim?
A family owned law firm, Nicolet Law Accident & Injury Lawyers has served injured clients throughout the Upper Midwest for more than 16 years.
During that time, we have recovered more than $55 million in total compensation for our clients, and we have gained a reputation for excellence by adhering to our law firm's core values:
We care. We understand what you are going through, and we want to do all we can to help you through this difficult and uncertain time in your life. Our compassionate lawyers will sit with you and listen to your story so we can devise the most effective strategy to help you get the compensation you need efficiently. We are always here to address your questions and concerns and provide regular updates on your case.
We win. Our top-ranked attorneys have achieved remarkable success in securing substantial settlements and verdicts for our clients. However, we believe winning is more than just obtaining a favorable award or settlement. Winning is about putting our clients' needs first and making sure they get everything they need to aid in their recovery and repair the damage to their lives as completely as possible.
We're passionate about the law. Although many of our lawyers have received national recognition and awards for our outstanding representation and service, we never rest on our laurels. Our attorneys are passionate about helping others receive justice, and we strive to improve by attending continuing education classes, training, and professional conferences. We set a high bar at Nicolet Law Accident & Injury Lawyers, and it shows in how we treat our clients and the results we obtain for them.
Along with our awards and honors, our attorneys have received numerous five-star reviews and compelling testimonials from our clients. We want you to believe that hiring our law firm was the best decision you could have made, and we fight tirelessly each step of the way to get the maximum financial recovery you need.
To begin getting the top-notch representation you deserve for your Minot slip and fall accident claim, you can contact Nicolet Law Accident & Injury Lawyers at 1-855-642-6538 to schedule a free case evaluation.
Common Causes of Slip and Fall Accidents in Minot
Minot is home to many stores, shops, and other public establishments. It is also home to nearly 50,000 people. All of our property owners have a legal duty to maintain their sidewalks, floors, stairs, and other pedestrian areas and keep them clear and clean to prevent injuries to others.
Some common causes of fall accidents we see in Minot include:
Snow and ice. Minot gets around 47 inches of snow each year on average. The average highs in the winter are well below freezing, which creates the potential for ice to accumulate on sidewalks and roads. Property owners must keep sidewalks in front of their homes and businesses clear of snow and ice. If they don't and you slip and fall, you could hold the property owner liable for your injuries.
Wet floors or walkways. Establishment owners and managers must clean up spills or mop up standing water on walkways, floors, and other areas with foot traffic. If you were at the Roosevelt Park Zoo or the North Dakota State Fair Center, for instance, and slipped and fell on a puddle, you would bring a claim against the establishment if those in charge knew or should have known about the hazard but did nothing to fix it.
Cluttered store aisles. Supermarkets and other retail stores in Minot must keep their shelves stocked, but they shouldn't leave pallets of goods in the aisles. Store managers and employees must also keep their store's aisles uncluttered and safe to walk through. If they leave items in the aisle and you trip over them and fall, we could hold the store responsible for any injuries you sustain.
Damaged floors and walkways. Just as property owners must keep their walkways clear and clean, they must also fix any damaged floor surfaces, repair frayed rugs or carpets, and ensure their floors and walkways are safe. If you trip and fall because of a crack in the floor, you could bring a claim against the property owner if they knew about the damage and had reasonable time to repair it.
Slippery, cluttered, or damaged floors are not the only causes of fall accidents in Minot. Falls from heights can happen in construction work.
If you leaned against a damaged, weak, or improperly installed railing and fell at a rooftop restaurant or an establishment with a raised platform for eating, drinking, or entertainment, you can hold the establishment liable for your injuries.
Establishment owners must also keep stairs and stairwells well-lit, clean, and safe for all patrons and employees. Falling from heights and falling down stairs can cause severe injuries.
Common Slip and Fall Injuries
Everyone has stumbled and fallen at some point, and falls are relatively common. However, any fall can cause severe injuries. You may need substantial medical treatment, therapy, and rehabilitation, and the ordeal can leave you with exorbitant medical bills and other damages.
At Nicolet Law Accident & Injury Lawyers, we have helped people obtain compensation for a wide range of slip and fall injuries, including:
Head injuries
Traumatic brain injuries
Broken bones
Neck and back injuries
Spinal cords injuries
Soft tissue damage
Hip and joint injuries
Internal injuries
Severe cuts, scrapes, and bruises
Get a complete medical evaluation as soon as possible after a fall, regardless of whether you think your injuries are serious. Certain injuries, like head, back, and soft tissue injuries, may take time to show symptoms. You may also have hidden internal injuries.
Make your top priority your health and well-being after any slip and fall accident in Minot. Go to the emergency room right away if your injuries are severe, but see a doctor even if you only see minor cuts or bruises. You could have damage you can't see, and you want to receive the proper medical treatment and have a record of your injury for your claim.
Sadly, some fall accidents—particularly those from heights—can cause fatal injuries. However, some family members can pursue compensation through a wrongful death claim.
What Compensation Can You Receive From a Slip and Fall Accident?
If you fell and sustained injuries from a preventable hazard on someone else's property, you shouldn't have to bear the costs of someone else's negligence. You will need an attorney to hold the other party accountable and get the compensation you deserve.
The attorneys at Nicolet Law Accident & Injury Lawyers can get the full amount of compensation you need to cover:
Medical bills
Physical therapy and rehabilitation costs
Prosthetics, mobility devices, and other accommodations
Lost wages and other work-related benefits
Loss of earning capacity
Other related out-of-pocket expenses
Additionally, you can pursue compensation for your intangible losses, such as:
Loss of quality of life
Emotional distress
Mental anguish
Disfigurement
Your Minot slip and fall accident attorney can calculate the total amount of damages you need to compensate you for all costs related to your injury.
What Should I Do After a Slip and Fall Accident in Minot?
After a fall accident, get medical attention. Not only do you need to receive medical treatment, but you also need a record of injuries and receiving treatment to file your claim.
If you can, document as much as you can at the accident scene. This includes taking photos or videos of the location and the hazard, as well as your injuries. You want to show how the property's conditions led to your fall and how the property owner was negligent in addressing the issue.
Collect witness statements from anyone who saw the accident or knew of the hazard. You also want to jot down everything you can remember about the incident while it's fresh in your memory.
You will also need to get the property owner's insurance information since you will have to file a claim with them.
One of the most important steps you should take is to contact our Minot slip and fall injury attorneys as soon as possible. Our lawyers can gather evidence, which is a big help if you suffered severe injuries and can't do it yourself. They can also file your claim with the insurance company and deal with them for you so you can focus on your recovery.
Why Do I Need an Attorney After a Slip and Fall Accident?
Virtually all slip, trip, and fall accident claims fall under premises liability because they happen on someone else's property. As such, the property owner's insurance will cover your injuries.
However, dealing with insurance companies is often frustrating, and insurers are usually wary of slip and fall injury claims. Successfully navigating the complex slip and fall injury claim process requires considerable knowledge of North Dakota's premises liability laws and an understanding of how insurance companies operate.
Although many slip and fall accident claims settle outside of court, you may need to take your case to trial. For example, the insurance company may refuse to cover your injuries, or they may act in bad faith regarding your claim or settlement. Depending on the incident, the severity of your injury, and other factors, you may want to take the other party to court to get the full amount of compensation you deserve.
The Minot slip and fall accident attorneys at Nicolet Law Accident & Injury Lawyers have more than 100 years of collective legal experience. We know North Dakota's personal injury laws, and we have achieved great success both during negotiations and at trial.
How Long Do I Have to File an Injury Claim in North Dakota
North Dakota allows injured parties six years from their injury to file a lawsuit in civil court. While this may seem like a long time, your attorney will need to gather evidence to support your claim and build a strong case for you. You really have no time to waste.
If you suffered injuries in a slip and fall accident in Minot, contact an attorney right away.
Contact Us Today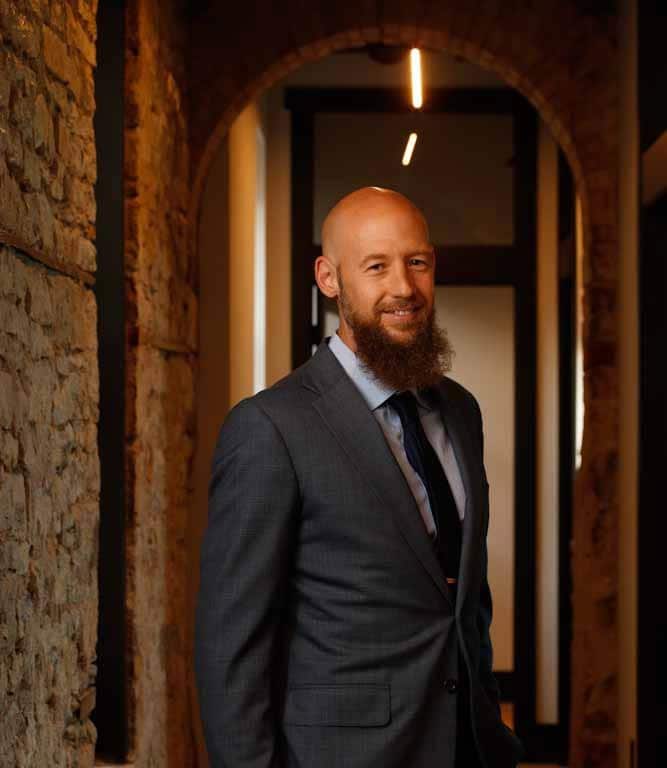 The experienced Minot slip and fall injury attorneys at Nicolet Law Accident & Injury Lawyers are here to hold a negligent property owner accountable for causing your pain and suffering. We will review your case for free, and we work on a contingency fee basis, so you won't have to pay anything upfront for us to represent you. Reach out to a Minot personal injury lawyer.
Contact our law firm today at 1-855-NICOLET to see how our Minot slip and fall injury lawyers can get the maximum compensation possible for your injuries and losses.