People in Minot enjoy riding motorcycles for the sense of freedom it brings. However, that freedom comes with risk. Motorcycles do not have enclosures like other motor vehicles, and motorcyclists and their passengers can suffer serious injuries in motorcycle accidents.
Motorcycle accidents in Minot result from a variety of causes, including another motorist's negligence, defective motorcycle components, and road defects, and more.. If you suffered injuries or lost a loved one in a motorcycle accident that was not your fault, you could obtain compensation from those responsible. Reach out to a Minot motorcycle accident lawyer.
The top-ranked personal injury attorneys at Nicolet Law Accident & Injury Lawyers are here to help you get the compensation you need. Contact our law firm today at 1-855-NICOLET for your free consultation.
Why Choose Us as Your Minot Motorcycle Accident Lawyers
Family owned and operated since 2007, Nicolet Law Accident & Injury Lawyers has served injured clients across the upper Midwest for more than 15 years. Over the course of our history, we have recovered more than $55 million in total compensation for our injured clients, and we promise to do all we can to help you get the maximum financial recovery possible.
At our law firm, we adhere to the following core values:
We care. Our compassionate attorneys and staff understand what you are going through, and we want to help you through this difficult and uncertain time in your life. We will take the time to listen to your story and devise a customized strategy to help you get the full financial recovery you need. We will also remain in regular communication with you to answer your questions, address your concerns, and provide timely updates about your case.
We win. Our lawyers have secured many substantial settlements and verdicts for our clients, including several multi-million-dollar awards. But winning is more than just negotiating a settlement or securing a favorable verdict at trial. We win because we do all we can to help our clients get everything they need, and you can trust we will always have your rights and best interests at heart. We will fight hard for you each step of the way to increase your chances of getting the favorable results you deserve.
We never stop getting better. Our attorneys have earned numerous awards and honors for our impeccable professionalism, outstanding legal abilities, and stellar client service. Not to rest on our laurels, we continually strive to further our legal knowledge and training and offer unmatched representation to all we serve. We set the bar high, and we want our clients to believe hiring our law firm after their accident was the best decision they could make.
Our lawyers have more than 100 years of collective experience, so you can depend on our advice to help you make the most informed decisions. Since our lawyers work on a contingency fee basis, you won't pay us anything upfront to represent you, and we will only accept a fee if we recover compensation for you.
Our law firm also has offices throughout North Dakota, Minnesota, and Wisconsin. We are here for you where and when you need us. To find out how we can obtain compensation for the injuries and losses you suffered because of someone else's negligence, contact our Minot motorcycle accident attorneys at Nicolet Law Accident & Injury Lawyers today. You can call us at 1-855-NICOLET or complete our online contact form to request your free case evaluation.
What Causes Motorcycle Accidents in Minot?
Most motorcycle accidents in Minot happen when other vehicle drivers act carelessly or recklessly. At Nicolet Law Accident & Injury Lawyers, we see many motorcycle accidents that would not have occurred were it not for another driver's negligence or wrongdoing.
Some common causes include:
Speeding or aggressive driving
Turning left in front of motorcycles
Merging into a motorcyclist's lane
Stopping suddenly in front of a motorcycle
Driving under the influence of alcohol or drugs
Ignoring stop signs and traffic lights
Failing to yield the right of way
In addition, motorcycle accidents often result from a defective component on the bike failing, causing the motorcyclist to lose control. Motorcycles are also more vulnerable to road defects and hazards in the road, including discharged grass clippings in the way.
If you wrecked your motorcycle due to unrepaired roads, preventable road hazards, or faulty motorcycle parts, you could hold the responsible parties accountable and get the compensation you need. Contact an experienced Minot motorcycle accident attorney at Nicolet Law Accident & Injury Lawyers to review your case and advise you of your options.
Motorcycle Accidents Can Cause Severe Injuries
Motorcycles are smaller and lighter than most passenger vehicles, and they do not have doors, side panels, or roofs to protect riders in a crash. As such, motorcyclists and their passengers can suffer severe injuries, even in low-speed accidents.
Some common motorcycle injuries we see at Nicolet Law Accident & Injury Lawyers include:
Head injuries
Traumatic brain injuries
Broken bones
Extensive road rash, cuts, and bruising
Neck injuries
Shoulder and back injuries
Spinal cord injuries
Crush injuries
Amputations
Motorcyclists can easily sustain major injuries that result in permanent disabilities, leading to years of expensive medical treatment and therapy. In worst-case scenarios, motorcyclists die from their injuries.
What Compensation Can You Get for Your Motorcycle Accident Injuries?
You already incurred considerable expenses dealing with the Minot motorcycle accident injuries someone else caused—and your injuries will likely continue to cost you and hurt your life. You shouldn't have to bear the responsibility of paying your medical expenses and other accommodations you may need, especially if you had to miss work or cannot return to work because of your injuries.
Fortunately, you may recover compensation, and our lawyers can help you recover the full amount of damages you need to cover:
Current medical bills
Future medical expenses
Disability accommodations, such as mobility devices, prosthetics, and alterations to your home or car
Prescription medication
Lost income
Loss of future earning potential
Property damage
Other related out-of-pocket costs
Additionally, we can help you recover compensation for the adverse effects your injuries have had and will continue to have on your life, such as:
Emotional distress
Disfigurement
Loss of enjoyment of life
If someone caused a motorcycle accident that killed a close family member, we can also help you successfully navigate a wrongful death claim to recover funeral expenses, burial costs, loss of consortium, loss of companionship, and more.
How Can an Attorney Help Me With My Motorcycle Accident Injury Claim?
Pursuing compensation for the injuries and losses you suffered after a Minot motorcycle accident someone else caused involves a complex legal process. Unless you have in-depth knowledge of North Dakota's personal injury laws and understand how insurance companies operate, you will likely feel overwhelmed. You may also inadvertently do or say something that could jeopardize your chances of getting compensation.
You need an attorney represent to successfully navigate a Minot motorcycle accident injury claim. Our lawyers can gather the evidence needed to support your claim and file the paperwork for you so you don't have to worry about it. Our attorneys will know the law and can assert your rights and hold the other party accountable, and we will know how to deal with the insurance company to ensure they accept your claim. Our lawyers can also negotiate for you to get the maximum compensation possible.
Although most motorcycle accident claims settle outside of court, there's always the chance you may need to take your case to trial. You will certainly need an attorney to file your claim in court and fight hard for you at trial.
Our motorcycle accident lawyers have trial experience and know how to present a compelling case to sway the jury's decision in your favor.
During your initial free consultation with a motorcycle accident injury attorney from Nicolet Law Accident & Injury Lawyers, we will review your case and determine if you have a viable claim. We will also offer an honest and objective opinion on how much compensation you could receive. You can count on us to build the strongest case for you and deal with the insurance company and other parties so you can focus on getting better. You can also trust we will fight vigorously during negotiations and at trial if necessary to get full and fair compensation.
How Do I Prove the Other Party is Liable for My Motorcycle Accident Injuries?
To obtain compensation for the injuries you suffered in a Minot motorcycle accident someone else caused, your attorney will have to prove the other party's liability. An experienced Minot motorcycle accident attorney can investigate the accident and collect the necessary evidence to show the other party was at fault.
Evidence our attorneys may use includes:
Police reports or accident reports
Your medical records and treatment plans
Diagnostic test and lab results
Your hospital and doctor bills and other related expenses
Witness statements
Photos or videos of the accident scene
Photos of your injuries
Your attorney may collect other pertinent information regarding your case, and they will have resources available to establish the extent of your injuries and the other party's liability for them. If your case goes to trial, your attorney will use the evidence to show the court the other party owed you a duty of care and breached that duty through their negligence or wrongful actions. This, in turn, caused your injuries and damages.
North Dakota Is a No-Fault Insurance State—But Not for Motorcycles
North Dakota is a no-fault state for auto insurance, which means drivers can file claims with their own insurance no matter who was at fault for the accident. All drivers must maintain a minimum amount of liability coverage on any registered vehicles they operate.
The limits are:
$25,000 bodily injury per person
$50,000 bodily injury per accident
$25,000 in property damage coverage
$25,000 per person/$50,000 per accident for uninsured/underinsured motorist coverage
The state also requires most motor vehicle drivers to purchase no-fault insurance coverage. Also called Personal Injury Protection (PIP) insurance, the basic package covers $30,000 per person, and it will cover economic losses resulting from an accident regardless of who caused it.
However, North Dakota does not require motorcyclists to carry no-fault insurance but you can buy it as an add-on to your policy. If you do not have PIP insurance, you may need to file a claim against the at-fault party. Also, if the other driver carried only the minimum liability coverage, it may not cover all your injuries and losses, and you may have to file a claim against them. Contact our attorneys immediately and discuss your options.
How Do I Get Compensation for My Minot Motorcycle Accident Injuries
If you have no-fault motorcycle insurance, you must first use your own PIP insurance to cover the basic expenses related to your injury. Once you reach the PIP policy limits, you may seek additional compensation by filing a motorcycle accident injury claim with the at-fault party's insurance company. If you don't have PIP motorcycle insurance, you can file directly with the at-fault party's insurer.
Your attorney will gather evidence to submit your claim and provide a demand letter that details your injuries and damages and make makes the other party liable. Your lawyer will also include a total dollar amount the insurance company can pay to settle your claim.
When they receive your claim, the insurance company will schedule an adjuster to investigate. The insurer may pay the claim in full without dispute, but they will likely respond with a settlement offer for far less than your attorney asked for. An assertive motorcycle accident attorney like ours at Nicolet Law Accident & Injury Lawyers will negotiate with the insurer to get them to offer enough to cover all your injuries and losses.
If the insurer denies your claim and refuses to negotiate, or if they act in bad faith regarding your claim, our attorneys can file a lawsuit against them in civil court.
North Dakota allows injured parties six years from their injury to file a personal injury lawsuit in court. That may seem like more than enough time, but gathering evidence, fully documenting injuries, and accurately calculating compensation take time. You have no time to waste in starting your claim to ensure you can pursue all the compensation you will need both now and in the future.
You also want to have an attorney file an injury claim with your own insurance company if you have PIP insurance. Insurance companies are notorious for devaluing or delaying claims, even if you are a policyholder. Plus, you don't need the added stress and responsibility of dealing with any insurance company while also recovering from your injuries.
Filing a Claim Against a City or Government
If you feel the city, county, or state government is responsible for your motorcycle accident, you may file a claim against them. Possible scenarios include an unrepaired or poorly maintained road causing your crash or a city vehicle colliding with you. Filing injury claims against government may require meeting far shorter deadlines and jumping through many hoops first. You need to consult an attorney immediately if you need to file a claim against the government.
Contact Us Today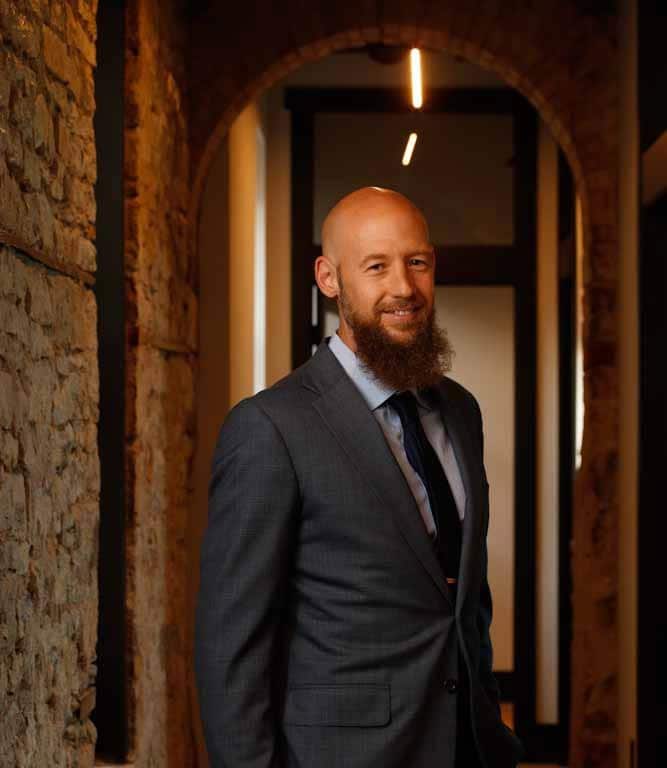 The Minot motorcycle accident attorneys at Nicolet Law Accident & Injury Lawyers have extensive experience helping clients throughout North Dakota with their complex motorcycle injury claims. We will thoroughly investigate your case, identify those at fault for your injuries and losses, and hold them accountable. Reach out to a Minot personal injury lawyer.
You can rely on us to file your claim promptly and properly and deal with the insurance company so you focus on your physical recovery. If your claim goes to court, we will fight hard to protect your rights and best interests and help you get the maximum compensation allowed under the law.
Contact Nicolet Law Accident & Injury Lawyers to speak with one of our motorcycle accident lawyers at no cost. You can reach us at 1-855-NICOLET or online to request a free consultation.