Choosing to walk is a decision that benefits the environment and your health, but it also puts you at risk of serious injury if you are involved in a car accident. Too many drivers fail to follow traffic laws and regulations, putting everyone on the road at risk.
Nicolet Law Accident & Injury Lawyers help pedestrian accident victims get the recovery they deserve. Contact our firm today for your free case consultation. Read on to learn more about recovering after a pedestrian accident.
A History of Results
Nicolet Law Accident & Injury Lawyers have the dedication necessary to assist accident victims recover compensation for their injuries, which we demonstrate through our history of results for our clients, with more than $44 million recovered over the years.
The following is just one example of the many times Nicolet Law Accident & Injury Lawyers has worked tirelessly on behalf of a client:
Our client was walking to work and crossed the street at a crosswalk. A vehicle pulled away from a stop sign and made a left-hand turn, striking our client in the middle of the crosswalk. The insurance company offered our client an insufficient settlement that did not even cover medical bills or lost wages. The Nicolet Law Accident & Injury Lawyers attorney worked with the victim to sue the driver and their insurance company and achieved a settlement covering medical bills, lost wages, and pain and suffering.
While we never guarantee results, our team works with each client to develop the strongest strategy for recovery after an accident. We understand that each case is unique and devote time and attention to understanding the client's goals.
How Common Are Pedestrian Accidents in Minneapolis?
Pedestrians are over-represented in statistics for severe traffic injuries and deaths in Minneapolis. They are a vulnerable population. While only 15 percent of people in Minneapolis make their trips on foot, these people are 29 percent of severe traffic injuries and deaths. This same pattern is true throughout Minnesota. In 2019, over 1,000 car crashes involved a pedestrian, resulting in 50 fatalities and 984 injuries.
Speed is a significant factor in pedestrian accidents in Minneapolis. As speed increases, the likelihood that a pedestrian will suffer a severe accident or die increases exponentially:
A pedestrian hit at 20 miles per hour has a 13 percent likelihood of suffering a severe injury or dying
A pedestrian hit at 30 miles per hour has a 40 percent likelihood of suffering a severe injury or dying
A pedestrian hit at 40 miles per hour has a 73 percent likelihood of suffering a severe injury or dying
Negligent drivers present a significant risk to the safety of pedestrians in Minneapolis.
Who Is Responsible for a Pedestrian Accident?
If a party's negligent acts caused the accident and your injuries, they are responsible for any damage you have suffered. A party is negligent when they fail to live up to their duty, such as the duty to follow traffic laws.
As you work with your lawyer to assess your case, consider the potential liability of the following parties:
Negligent Driver: The most severe and fatal crashes in Minneapolis are caused by the actions of negligent drivers, including running a red light, speeding, driving under the influence of alcohol or drugs, unsafe turning, and distracted driving.
Employer of Negligent Driver: If the negligent driver who hit you was driving as a part of their job duties, their employer might be responsible for the accident. Employers are responsible for the acts or omissions of their employees. Pursuing recovery from an employer can be preferable because they are more likely to have a robust insurance policy.
Vehicle Manufacturer: A manufacturer must build a safe vehicle. If they fail to live up to this duty, they are responsible for injuries caused by the failure. The safety issue does not need to cause the accident to place some responsibility on the manufacturer. If a safety feature fails after the accident, increasing any party's injuries, the manufacturer can be held responsible.
The above parties are most commonly at fault for a pedestrian injury, but you should work with your lawyer to analyze all parties who are potentially liable for the accident or your injuries. Identifying the responsible party is a critical first step in securing recovery. Evidence of the party's negligence will increase your chances of recovery, and much of this evidence will be collected at the scene of the accident.
If possible, get a police report. The report will document critical evidence like images of the scene of the accident, witness statements, and any citations issued to a driver involved in the accident. If you cannot get the police to the scene, do your best to document the accident scene yourself.
Recovering for Your Injuries
Once you have complied evidence demonstrating the negligence of another party, you will work with your lawyer to prepare a damages demand. It will include all the injuries you suffered because of the accident.
Common damages after a pedestrian accident include:
Medical Expenses: Hefty medical expenses are common after a pedestrian accident, given the high chance of a severe injury. The defendant can be responsible for all your medical expenses, including emergency transportation, doctors' visits, medical procedures, and prescription medication. An estimate of the cost of your future medical expenses, such as physical therapy, should also be included in your damages demand.
Lost Wages: If your injuries force you to miss work or work a reduced schedule, include your lost wages in your damages demand. Work with your lawyer to include an estimate of future lost wages and any reduction in your future earning potential.
Property Damage: The defendant can be responsible for repairing or replacing your personal property damaged in the accident, including electronics like a smartphone.
Emotional Distress: Some pedestrian accident victims suffer from emotional distress after the accident, either because of the trauma of the accident itself or because of the life changes caused by their injuries. If you experienced anxiety, depression, post-traumatic stress disorder, or any other emotional distress because of your accident, include appropriate compensation in your damages demand.
Loss of Enjoyment: Your injuries could drastically change your day-to-day life and might limit your ability to participate in activities that were previously an essential part of your life. If this is the case, you should request compensation for this loss of enjoyment.
Punitive Damages: The damages discussed above are called compensatory damages, meaning they are intended to compensate the plaintiff for some loss caused by the accident. In certain scenarios, the court will award punitive damages to punish the defendant. In Minnesota, you must establish that the defendant acted with deliberate disregard for your safety to qualify for an award of punitive damages.
A comprehensive damages demand is a key component of your case against the defendant, and you must have supporting evidence for the monetary amounts included in the demand. Your lawyer will work with you to compile more straightforward evidence like doctors' bills and paystubs, as well as more complicated evidence like expert input into your reduced future earning potential.
Frequently Asked Pedestrian Accident Questions
Q: What are common injuries after a pedestrian accident?
Because pedestrians have no protection in an accident, the resulting injuries are often severe.
Common injuries include:
Head and brain injuries. Pedestrian accidents are a common cause of traumatic brain injury (TBI). The symptoms of a TBI are wide-ranging and depend on the location and strength of the below. Victims might also suffer from lacerations or concussions.
Spinal cord injuries. The spinal cord allows the brain to communicate with the body, and a victim might suffer from muscle weakness or paralysis in different areas of the body.
Neck and back injuries. Pedestrian accident victims could suffer from whiplash or other neck and back injuries. These types of injuries often cause chronic pain.
Dental and facial injuries. Because a pedestrian lacks head protection, the likelihood of facial and dental injuries is increased in an accident. These injuries include a broken jaw, chipped teeth, lacerations, or burns from contact with the pavement. If the injuries are severe, the victim might need plastic surgery.
Internal damage. If you have suffered a blow to the body, you could have internal injuries, including damages to critical organs like the heart, kidneys, or lungs. These injuries are often difficult to detect, with symptoms showing up well after the blow was received.
Broken bones and fractures. A pedestrian victim's body often takes a beating, resulting in broken bones or fractures. These injuries limit the victim's ability to manage day-to-day activities and often have a long timeline to heal. If the break is serious, it could require surgery or physical therapy to recover.
Q: Are roads getting safer for pedestrians?
Unfortunately, roads are only getting more dangerous for pedestrians. Traffic in Minneapolis has increased, which makes traveling by foot riskier. The statistics show that danger is on the rise for pedestrians, with 2015-2019 representing the deadliest four years in the last three decades for pedestrians.
In addition to busier streets, the vehicles on the road are more dangerous for pedestrians. Drivers increasingly choose larger vehicles like SUVs, with more prominent blind spots. The more significant blind spots mean that drivers are less likely to see pedestrians, increasing the risk of a collision.
Q: How long do I have to file a lawsuit?
Minneapolis pedestrian accident victims must file a lawsuit within six years of the date of the accident. This time frame is called the statute of limitations and is put in place to ensure that a claim is brought before the evidence becomes stale. There are very limited exceptions to the statute of limitations, so make sure you take timely action after your accident.
Q: When should I accept a settlement offer?
One of the most common ways to resolve a claim for recovery after a pedestrian accident is through a settlement either with the defendant or the defendant's insurance company. Settlements are often preferred because they resolve matters more quickly than lawsuits and offer guaranteed recovery.
Do not accept a settlement offer without discussing it with your lawyer. You will need to weigh the proposed offer against your comprehensive damages assessment and the strength of your case. An insurance company will look for any way to reduce their payment, so work with your lawyer to present a strong case and secure a settlement that fairly compensates you for your injuries.
Q: What should I do after a pedestrian accident?
Your priority after an accident is to secure any necessary medical assistance. This is critical to your health and safety and helps ensure the defendant cannot argue that your delay increased the severity of your injuries.
Once your medical needs have been addressed, be sure to document the scene of the accident. The best method for documentation is through a police report. If it is not possible to secure a police report, try to take photos of the accident scene, secure contact information for witnesses, and note any negligent actions by the defendant, such as speeding.
Finally, reach out to an experienced personal injury attorney as soon as possible after your accident.
Q: Why should I hire a personal injury lawyer to assist with my recovery?
The right lawyer will be a key partner as you seek recovery for your injuries. The lawyer will understand the process for recovery and will ensure that you take the actions needed to preserve your right to recovery.
A lawyer will work with you to:
Analyze the liability of each party involved in the accident;
Compile and analyze evidence of the defendant's negligence;
Manage communication with the defendant and their insurance provider;
Prepare a comprehensive Minneapolis Pedestrian Accident Attorney assessment with supporting evidence;
Offer advice on settlement offers; and
Prepare and file court documents.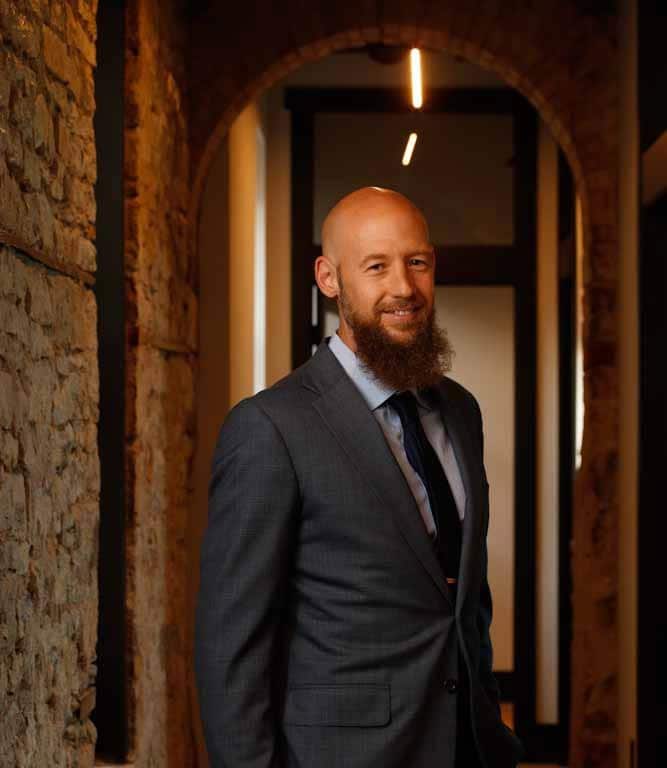 The team at Nicolet Law Accident & Injury Lawyers has experience assisting pedestrian accident victims in and around Minneapolis secure the recovery they deserve. If you or a loved one was the victim of a pedestrian accident, contact our firm today at (612) 446-3999 or through our website for a free case consultation.
Minneapolis Office
43 SE Main St
Suite 500
Minneapolis, MN 55414
Phone: (612) 688-4459