Dogs are a source of comfort and companionship for many families in Bismarck. But when a dog attacks someone, it can be traumatic. Dog bites can cause serious injuries requiring emergency medical treatment, hospitalization, and reconstructive surgeries. In some cases, dog bites can kill. If you or your child suffered injuries from a dog bite, you may receive compensation for your injury-related expenses.
The Bismarck dog bite attorneys at Nicolet Law Accident & Injury Lawyers understand the physical and emotional pain and staggering medical bills that can result from a dog attack. We know the rights of dog bite victims and the laws that protect them. And, we can help you obtain the full compensation you need to recover physically, emotionally, and financially.
Dog Bite Statistics
Dog bites are more common and dangerous than you might think.
Dogs bite about 4.5 million people each year in the U.S.
Each day, nearly 1,000 people seek treatment at emergency departments for dog bites
Dog bite injuries hospitalize about 12,400 people every year
Nearly 20 percent of dog bites become infected
30 to 50 dog bite cases are fatal
The staggering medical bills to treat dog bite victims hits an average hospitalization cost of $18,200—about 50 percent higher than that for other accident-related injuries. Combined, victims suffer up to $2 billion in monetary losses annually.
When dog bite victims seek compensation from the dog owners, the dog owners' homeowners' insurance policy usually pays. In one recent year, dog owners paid $882 million in dog bite liability claims—a substantial increase over previous years due to increased medical costs and larger settlements, judgments, and jury awards.
If you or a loved one suffered injuries from a dog bite in Bismarck, you don't have to suffer alone. An experienced Bismarck dog bite attorney at Nicolet Law Accident & Injury Lawyers can handle your claim so you can focus on healing.
North Dakota Dog Bite Laws
Unlike most states, North Dakota has no specific statute governing dog bites. When arguing dog bite claims, lawyers usually refer to Sendelbach v. Grad, a North Dakota Supreme Court case. The state's high court held that the "standard of liability for injuries caused by an animal to a person on the premises of the professor of the animal is no different than the standard regarding injuries to a visitor caused by other means."
In layman's terms, that means if you are on someone's property legally and that person's dog bites you, the owner must pay for your injuries if they failed to use reasonable care to prevent the injuries, such as by restraining or controlling the dog.
If a dog bites someone on public property, the court may hold the dog owner responsible if they did not follow local laws. For example, if you are hiking on one of Bismarck's trails and an unleashed dog bites you, the court could find the owner liable for any damages because the owner failed to follow the city's leash law.
Do I Have a Bismarck Dog Bite Claim?
To receive compensation for any damages caused by a dog attack in Bismarck, you must prove that the dog's owner knew that their dog was aggressive but was negligent in not preventing the attack that caused your injuries.
The four elements of negligence are:
The dog's owner had a duty of care to prevent his dog from attacking or biting others.
The dog's owner breached his duty of care. For example, if a dog owner knows his dog will be aggressive when someone comes to the door but doesn't restrain it.
The owner's breach of their duty of care resulted in the dog biting you.
Your dog bite injuries caused you to suffer damages, such as medical bills or lost wages because your injuries prevented you from working.
In some circumstances, our lawyers may hold another party responsible for a dog attack, such as a landlord, provided they knew a dangerous dog was on their property but failed to keep others safe.
Can I Recover Compensation for a Dog Bite?
North Dakota also follows a comparative negligence rule in personal injury cases. Comparative negligence is a legal principle that reduces the damages a plaintiff can recover in an accident based on their percentage of fault. Under the comparative negligence rule, if the court finds you less than 49 percent at fault, you can recover some compensation. But, if the court finds you at least 50 percent to blame, you cannot recover compensation.
A dog owner may argue that you provoked the dog and are at least partly responsible for the attack. An experienced dog bite attorney in Bismarck understands North Dakota's confusing dog bite laws and can get the compensation you deserve.
What Compensation Can I Receive for a Dog Bite Claim?
If you suffered dog bite injuries, you may receive compensation for:
Medical bills
Future medical expenses
Lost income
Future earning capacity
Emotional distress
A Bismarck dog bite lawyer can review your case and determine the true value of your dog bite claim.
Common Dog Bite Injuries
Dog bites can cause serious harm, including:
Cuts and lacerations
Deep bruising
Scaring
Disfigurement
Broken bones
Infections
Nerve damage
Rabies
Mental anguish
Post-traumatic stress disorder
Death
Bismarck Dog Bite Statute of Limitations
North Dakota has a six-year statute of limitations on personal injury cases, meaning you have six years from your injury to file a dog bite claim. However, some exceptions apply to this rule. For example, family members have only two years to file a wrongful death case on behalf of their loved one.
Six years may seem like a long time to file a dog bite lawsuit, but as time goes by, evidence can get lost. And it can take years to build a strong case. If a dog has injured you or a loved one, discuss your case with Nicolet Law Accident & Injury Lawyers as soon as possible.
Who Pays for Dog Bite Victims' Damages
In some cases, the dog owner's homeowners' or renters' insurance policy will pay for damages caused by dog bite injuries up to the policy limits. If damages exceed this amount, you may hold the dog's owner personally liable for the difference.
Bismarck does not ban more aggressive dog breeds, like pit bulls. But some insurance companies refuse to cover injuries from more vicious breeds.
Contact Our Bismarck Dog Bite Lawyer Today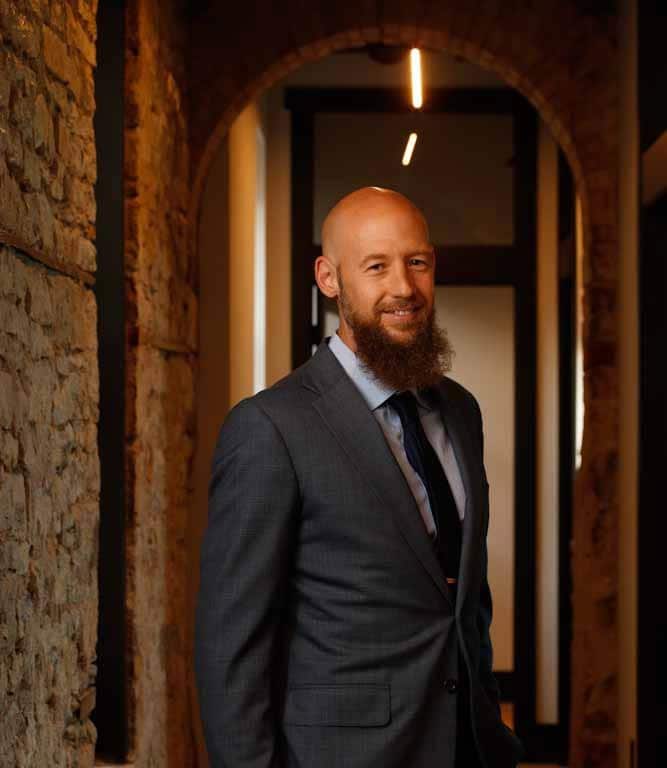 Dogs bite millions of people each year in the United States, more than half of them children. If you or a family member suffered injuries from a dog bite or dog attack in Bismarck, our experienced dog bite lawyers can help you get the compensation you need and deserve. Reach out to a Bismarck personal injury lawyer.
The legal team at Nicolet Law Firm Accident & Injury Lawyers have successfully protected the rights of people who dogs have attacked. We are passionate in our pursuit of maximum compensation for our clients. Contact us today at 1-855-NICOLET for your free consultation.