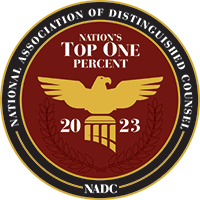 A loved one's death is devastating and painful. The grief can intensify if the person you loved and cared for died because of someone else's preventable actions. While trying to get your life back on track, you may demand financial compensation.
A wrongful death is a fatality that occurred due to someone else's negligence. You need to work with a Bismarck wrongful death lawyer to get compensation for your loved one's untimely demise and your suffering.
At Nicolet Law Accident & Injury Lawyers, we have a strong team of attorneys who focus on getting clients who lost their loved ones the compensation they deserve. For a free consultation in Bismarck, North Dakota, please call us at any time.
Why Choose Us
When seeking justice and compensation for the wrongful death of a loved one, you need a trusted and experienced attorney by your side.
Our dedicated team of wrongful death attorneys at Nicolet Law Accident & Injury Lawyers has a proven track record of success in handling wrongful death cases in Bismarck, North Dakota. With our comprehensive experience, local presence, and commitment to client satisfaction, we are the ideal choice for those seeking justice and closure during difficult times.
Extensive Experience and Success in Wrongful Death Cases
At Nicolet Law Accident & Injury Lawyers, we understand the immense emotional and financial toll that follows the wrongful death of a loved one.
Our attorneys have a wealth of experience in handling wrongful death cases and are knowledgeable in the complex legal aspects such situations can involve.
We have successfully represented numerous clients in Bismarck, fighting tirelessly to hold responsible parties accountable and secure the compensation our clients deserve. We navigate the intricacies of wrongful death cases, protecting your rights and ensuring you can fight for justice.
Local Presence and Convenience
Choosing a local law firm can provide many advantages when dealing with a wrongful death case. Our office is easily accessible by different types of transportation. We are, however, always ready to arrange a remote consultation if you are not feeling up to an in-person meeting.
Our local presence allows us to deeply understand the community, the local court system, and the unique challenges that may arise in wrongful death cases specific to Bismarck. By choosing Nicolet Law Accident & Injury Lawyers, you can benefit from the convenience of having a dedicated attorney nearby, ready to provide personalized attention and support throughout your legal journey.
Compassionate and Client-Focused Approach
At Nicolet Law Accident & Injury Lawyers, we recognize that no amount of compensation can replace the loss of a loved one. We approach every wrongful death case with compassion, empathy, and a commitment to understanding our client's unique needs and circumstances.
Our team takes time to listen to your story, answer your questions, and provide the support and guidance you need during this difficult time. Our client-focused approach ensures you receive the utmost care and respect throughout the legal process.
Thorough Investigation and Aggressive Representation
A thorough investigation is crucial to building a solid and persuasive case in wrongful death cases. Our team of Bismarck personal injury attorneys at Nicolet Law Accident & Injury Lawyers is diligent in gathering evidence, interviewing witnesses, and reconstructing the events leading to the wrongful death.
We work tirelessly to build a compelling case on your behalf, employing our extensive resources and network of experts to establish liability and maximize your chances of a favorable outcome. Our aggressive representation in and out of the courtroom allows us to advocate fiercely for your rights and pursue the justice you deserve.
<iframe width="200" height="113" src="https://www.youtube.com/embed/AcP8lEwGGlM?feature=oembed" frameborder="0" allow="accelerometer; autoplay; clipboard-write; encrypted-media; gyroscope; picture-in-picture; web-share" allowfullscreen title="Drew Epperly, Managing Attorney of North Dakota | Nicolet Law"></iframe>
How Much Is My Case Worth?
When facing the unimaginable loss of a loved one, seeking justice and financial compensation can be a big step toward recovery. While every wrongful death case is unique, there are certain types of damages you can demand, including:
Economic Damages
The purpose of these damages is to compensate for the financial losses the surviving family members suffered. They can include medical expenses, funeral and burial costs, a loss of future income, a loss of benefits, and any other financial contributions the deceased would have provided.
Non-Economic Damages
Non-economic damages or pain and suffering aim to compensate for the emotional and intangible losses the surviving family members experienced. These can include pain and suffering, a loss of companionship, a loss of guidance and support, and the emotional distress wrongful death can cause.
Punitive Damages
In certain cases where the responsible party's actions were particularly reckless or intentional, the judge may decide to award punitive damages. These damages aim to punish the wrongdoer and prevent similar behavior in the future.
Factors Affecting the Size of the Settlement or Payout
Several factors can influence the size of the settlement or payout in a wrongful death case. They are:
Liability: The strength of the evidence establishing the responsible party's liability plays a significant role in determining the potential payout. A thorough investigation, including gathering witness statements, expert opinions, and other evidence, can help determine liability and strengthen your case.
Damages: The extent of the economic and non-economic damages the surviving family members suffered is a vital factor in determining the size of the settlement or payout. The financial losses you incurred, the effect on your quality of life, and the emotional distress you experienced all contribute to the overall value of your case.
Insurance coverage: The responsible party's insurance coverage can also affect the size of the settlement or payout. If the responsible party has substantial insurance coverage, it may increase the potential compensation available to the surviving family members.
Negotiations and legal representations: The negotiation skills and experience of your personal injury attorney can significantly affect the outcome of your case. A skilled attorney from Nicolet Law Accident & Injury Lawyers can advocate on your behalf, negotiate with insurance companies, and fight for the maximum compensation you deserve.
At Nicolet Law Accident & Injury Lawyers, our wrongful death attorneys have the experience and skills to assess the value of your case and make sure you demand the right amount from the at-fault party. We will fight to make sure that your compensation is fair.
Wrongful Death Laws in North Dakota
Every year, more than 200,000 unintentional deaths occur in the United States. Many of them happen due to traffic accidents. Thirty-eight percent of the most dangerous intersections in North Dakota are, in fact, in Bismarck.
Understanding the wrongful death laws in North Dakota is essential to achieve success with such a claim. The compassionate team of personal injury attorneys at Nicolet Law Accident & Injury Lawyers is knowledgeable in the state's wrongful death laws. We guide you closely to prevent unfortunate errors and maximize your compensation.
What Is Wrongful Death in North Dakota?
According to North Dakota Statute Section 32-21-01, wrongful death in North Dakota refers to a situation in which another person or entity's wrongful act, neglect, or default causes an individual's death.
Wrongful death claims seek to hold the responsible party accountable for their actions or omissions, providing compensation to the surviving family members for their losses and the adverse effect of the death on their lives.
Who Can File a Wrongful Death Lawsuit in North Dakota?
In North Dakota, you can file a wrongful death lawsuit if you have any of the following relationships with a fatality victim:
The surviving husband or wife.
The surviving child.
The surviving parent.
The surviving grandparent.
The personal representative.
The person with primary physical custody of the deceased before their death.
The right to file a claim follows the above order. A surviving parent, therefore, can only file a claim if there isn't a surviving child or spouse. Some exceptions to this law exist. Our Bismarck wrongful death lawyers will explain all the nuances to ensure the protection of your rights.
What Is the Statute of Limitations in North Dakota?
The statute of limitations is the legal time limit within which you can file a wrongful death claim. In North Dakota, the statute of limitations for wrongful death cases is generally two years from the person's death.
It is crucial to adhere to this time limit. Failing to file a lawsuit within the prescribed period can result in the loss of your right to seek compensation. However, certain circumstances may affect the application of the statute of limitations, such as cases involving minors or situations where the responsible party concealed their actions or misrepresented the facts.
Hiring a personal injury attorney as soon as possible after losing a loved one can protect your rights and ensure that you meet the deadlines for filing a wrongful death lawsuit in North Dakota.
At Nicolet Law Accident & Injury Lawyers, we comprehend the intricacies of wrongful death laws in North Dakota. Our personal injury attorneys have broad experience handling wrongful death cases and are dedicated to providing compassionate support and effective legal representation to surviving family members.
Battling Insurance Companies
Dealing with insurance companies after the wrongful death of a loved one can be an incredibly challenging and overwhelming experience.
At Nicolet Law Accident & Injury Lawyers, we understand the complexities of fighting insurance companies during such difficult times.
Insurance companies are profit-driven entities. Their primary objective is to minimize payouts and protect their bottom line. When it comes to wrongful death claims, insurance companies often employ tactics to reduce or deny compensation to grieving family members. Some of the challenges you may encounter when dealing with insurance companies include:
Denial of Liability
Insurance companies may try to shift blame or deny liability altogether, claiming that their policyholder was not at fault for the wrongful death. They may argue that the deceased contributed to the accident or that there is insufficient evidence to prove negligence. This situation can be frustrating and disheartening for those seeking justice and compensation.
Lowball Settlement Offers
Insurance companies may attempt to settle the wrongful death claim quickly and for far less than it is worth. They may take advantage of the emotional vulnerability of grieving family members by offering minimal compensation in the hope that they will accept the proposal out of desperation. These lowball settlement offers often fail to adequately address the financial and emotional losses the family suffered.
Delayed or Denied Claims
Insurance companies may intentionally delay the claims process, making it difficult for the family to receive timely compensation. They may request unnecessary documentation, conduct lengthy investigations, or employ other obstructive tactics to frustrate claimants. In some cases, insurance companies may outright deny valid claims, forcing families to file a lawsuit.
At Nicolet Law Accident & Injury Lawyers, we know exactly what tactics insurance companies use to minimize your compensation. Our team leverages its extensive experience and skills to counter these tricks with strong arguments and fight for the money you deserve.
If the insurance company refuses to offer a fair settlement, we are ready to take your case to court. Our team has the litigation experience and courtroom skills necessary to present your case effectively and fight for your rights before a judge and jury.
What To Do After a Wrongful Death Occurs
After the devastating loss of a loved one due to wrongful death, you need to take action to protect your rights and seek justice. One of the most important steps you can take is to hire an experienced Bismarck wrongful death lawyer.
A skilled attorney from Nicolet Law Accident & Injury Lawyers will guide you through the legal process, provide compassionate support, and fight tirelessly on your behalf. They can initiate a prompt and thorough investigation to gather evidence, interview witnesses, and build a strong case.
Their timely action helps preserve crucial evidence before it deteriorates or disappears, enhancing the chances of a successful claim. They can negotiate with insurance companies and, if necessary, litigate your case in court.
By hiring an experienced Bismarck wrongful death lawyer, you can ensure the honor of your loved one's memory and make sure you receive the compensation you deserve.
Call an Experienced Bismarck Wrongful Death Lawyer Today
The wrongful death of a loved one can be truly devastating. You may need to take legal action to protect your and your family members' rights.
At Nicolet Law Accident & Injury Lawyers, we have decades of experience dealing with wrongful death cases in Bismarck. Call us at (701) 970-2284 to receive a free case evaluation today.
"
Russell Nicolet represented me for a personal injury case. He was kind, compassionate, and professional. He made my concerns his concerns. He was quick to respond to my calls and emails. He kept me up
 to date on the progress of the case. Every interaction with Russel and his staff was a positive experience. If you are looking for a personal injury attorney, I highly recommend Russell, or his colleagues at Nicolet Law.
"
"
Eureka!! All of my questions were answered and although my situation doesn't warrant legal representation I am moving forward with quality resources and the added confidence that I received know
ledgeable and professional advice.
"