Minnesota is the perfect place for ATV enthusiasts. Whether you compete, participate in rallies, ride while deer hunting, or ride just for fun, you'll find a trail that suits your riding style. ATVs offer a thrilling recreational alternative, but they also contribute to accidents and serious or fatal injuries.
If a negligent rider injures you or your child, contact our Minnesota ATV accident lawyers. When we accept your case, we become your legal advocates. We resolve complex legal issues on your behalf and determine if anyone owes you financial compensation.
Injured? Get Nicolet
At Nicolet Law Accident & Injury Lawyers, we believe that negligent people should pay for the injuries they cause. As proving a case to an insurer is often complicated, we have always offered our clients a simple solution. We take care of the legal issues while you concentrate on healing.
We offer injured victims effective legal representation. Once we establish a working relationship, we investigate our clients' accidents and evaluate the liability issues. When appropriate, we identify the negligent parties, place them on notice, and take steps to recover fair compensation.
<iframe width="200" height="113" src="https://www.youtube.com/embed/7GdRr4hkA2s?feature=oembed" frameborder="0" allow="accelerometer; autoplay; clipboard-write; encrypted-media; gyroscope; picture-in-picture; web-share" allowfullscreen title="Jill&#39;s UTV Accident Testimonial | Nicolet Law"></iframe>
Our Law Firm's Results
Our accident injury lawyers have recovered over $55 million for our injured clients. We accomplished this by preparing our cases beginning on day one. We handle each case as though it may go to court one day. We investigate all types of accidents, assess evidence, and evaluate liability issues. We get to know our clients so we can better understand how their injuries affect their lives.
Our preparation strategy has always given us an edge when negotiating with responsible parties, their insurers, and their attorneys. If they don't negotiate fairly, we are prepared to pursue Alternative Dispute Resolution or file a lawsuit.
We can't promise any specific result, but our clients' personal injury stories demonstrate our drive to obtain optimum results and push back against insurance companies.
So do our results:
Car Accident, $1,200,000: We resolved the case for $1.2 million. The insurance company originally offered only $50,000.
UTV Accident, $550,000: The liability insurance carrier offered $75,000.
Motorcycle Accident, $1,100,000: The insurance company offered $650,000.
Pedestrian Accident, $1,050,000: The liability insurer denied the claim before our law firm took over.
All Terrain Vehicles in Minnesota
Minnesota riders have over 270,000 registered ATVs/all-terrain vehicles.
These vehicles have specific characteristics that distinguish them from other vehicles in the broad off-highway vehicles category.
Three to six wheels
A dry weight (without fluids) of no greater than 2,000 pounds
UTV (Side-by-side, SxS) versions that seat two
Two ATV classes based on their dimensions: Class 1: Fifty inches wide or less; Class 2: 50 inches but no more than 65 inches
ATV manufacturers create their own unique designs and features, but all brands must comply with 16 CFR Part 1420, Requirements for All Terrain Vehicles. This Consumer Product Safety Commission regulation mandates that all ATVs meet American National Standards Institutes (ANSI) safety standards.
ATVs vs. UTVs
ATVs and utility task vehicles give riders a choice in operation and functionality.
As an ATV is smaller than a UTV, it offers several unique features.
Single-person straddle seating (like a motorcycle)
Handle-bar control
Functionality relies on bodily control
Greater maneuverability
Smaller and easier to transport
More economical than a UTV
Many riders prefer utility task vehicles (UTVs) over traditional ATVs. You may know a UTV as a Side-by-Side or SXS.
These vehicles operate similarly to a basic ATV, but they provide additional and optional benefits.
Larger with more room for hauling
Steering wheel and brakes for greater control
A bigger engine for more power
Adaptable for farm work and heavier jobs
Optional accessories: Windshields, Front loaders, sprayers, etc.
Seating for up to six passengers
Minnesota's Off-Highway Trails
Experienced DNR Parks and Trails trail builders help develop major trail projects. Parks and Trails' roving crews and club volunteers perform trail maintenance duties. The DNR, LGUs, club volunteers, and volunteer Trail Ambassadors conduct scheduled trail monitoring.
Minnesota Recreational Vehicle ATV Statutes
Minnesota statutes Chapter 84, Department of Natural Resources establish rules and guidelines for ATVs, UTVs, and other off-road and recreational vehicles. The DNR also publishes the OHV Regulations, a handbook that summarizes relevant laws, regulations, and rider requirements in plain language.
Here are some of the guidelines.
Owners must register all ATVs with the DNR.
Riders under age 18 must wear a DOT-approved helmet.
Riders over 16 must have a license if they plan to make any direct crossings over a highway.
Most riders born after July 1, 1987, must complete an approved safety course.
Under specific circumstances, ATV riders may travel on the right shoulder or the extreme right side of a public road right-of-way, a county state-aid highway, or a county highway.
Riders qualified to ride on the above public roads may make left turns from any part of the road when they can do so safely.
Types of ATV Accidents
The National Highway Transportation Administration, Consumer Product Safety Commission (CPSC), scientists, and medical professionals have spent years studying ATV accidents and injuries.
They conclude that most fatalities occur due to four types of accidents.
Collision: A rider collides with an object, a vehicle, or another ATV.
Overturn: The vehicle overturns or rolls during riding or maneuvering. Sometimes trail defects contribute to overturns.
Ejection: The vehicle throws a rider or passenger to the ground or into another object. An NHTSA analysis determined that 80 percent of ATV fatalities involve ejection.
Other: Other types of accidents fall outside of the above categories.
Studies have shown that ATV accidents continue due to a number of issues, often outside of the rider's control. The CPSC concludes that the vehicle's basic design contributes to accidents. ATVs have a short wheelbase, a narrow track, and a high center of gravity. These elements cause "adverse handling characteristics." Manufacturers anticipate that a rider's "active-riding techniques" will compensate for these shortcomings.
ATV Recalls
As consumer products, ATVs and UTVs fall under the CPSC's control. The agency passes regulations to establish safety standards. They also monitor consumer product complaints and recall vehicles when appropriate. In recent years, CPSC has recalled several ATVs due to safety hazards and noncompliance with mandatory safety requirements.
Here are a few of the recalled items.
ATV Accident Injuries
ATV accident injuries range from minor to catastrophic and fatal. In its most recent off-highway vehicle Report of Deaths and Injuries, the CPSC estimates that ATV accidents generate 105,400 emergency department visits each year. The more serious injuries occur when the vehicle rolls over or ejects its passenger. CPSC further determined that fractures were the most common injuries. The head, neck, arms, shoulder, torso, and leg were the most frequently injured body parts.
The DNR Summary of Fatal ATV/OHM/ORV Accidents describes how recently documented fatal accidents occurred.
A 20-year-old male struck a tree, rolled over, then struck another ATV.
A 21-Year old female passenger died when the rider struck a "clump of trees."
A 42-year-old female died while sitting on her ATV as a truck was towing it with an attached strap. The ATV overturned, fatally injuring her.
A 66-year-old man sustained fatal injuries after a van struck his ATV.
A 12-year-old female passenger died when she fell out of an ATV.
A 12-year-old male died when his ATV rolled over and pinned him underneath.
Riders must self-report accidents, and reporting is mandatory only for physician-treated conditions and fatalities. Law enforcement agencies don't document or maintain comprehensive statistics on all accidents. Reported injuries vary depending on the type of accident.
Nicolet Law Accident & Injury Lawyers have successfully recovered damages for a variety of injuries including:
Traumatic brain injuries
Spinal cord injuries
Disc fractures and dislocations
Fractured and shattered bones
Soft tissue injuries
Internal organ damage and bleeding
Burns
Loss of bodily functions
Fatal injuries
Based on the Insurance Institute for Highway Safety's analysis of recent accident data, 73 percent of ATV fatalities occurred on minor, rural roads.
Recoverable Compensation for ATV Accident Injuries
When our Minnesota personal injury attorneys negotiate or try our clients' cases, we seek economic and non-economic damages on their behalf. If we take a case to trial, we sometimes ask a jury for a punitive damage award as well.
Economic Losses
This damage category includes all out-of-pocket costs incurred during treatment, recovery, and rehabilitation. If your disability or treatment is ongoing, we also recover the costs for future economic losses.
Economic damages include
Medical bills - Hospital costs, medical costs, mobility structures and devices, medical devices, hospitalization, surgical costs, rehabilitation and psychological therapy, replacement services, and other calculable costs.
Income loss - Lost wages, business or self-employment losses, and future losses.
Non-Economic Losses
For this damage category, we place a value on an injured victim's psychological, emotional, and other subjective losses.
Damages sometimes include:
Pain and Suffering
Psychological trauma
Losses to family and spousal relationships
Diminished quality of life
Disfigurement
Permanent impairment
Punitive Damages
Under Minnesota's Punitive Damage Statute, §549.20, juries may award punitive damages to penalize a defendant for particularly heinous acts. As your attorneys, we must produce clear and convincing evidence showing that the defendant acted with "deliberate disregard for the rights and safety of others."
Who is Responsible for ATV Accidents?
Sometimes a number of factors contribute to the circumstances that end in an ATV crash.
Often other people or entities share responsibility for the resultant damage and injuries.
Other ATV Owners/Riders: When a negligent rider crashes into another ATV, they share responsibility for any damage or injuries. Some ATV riders cause crashes when they drive under the influence, ride too fast for conditions, become distracted or commit other risky driving behaviors. ATV owners share responsibility for accidents when they lend their vehicles to an unsafe operator.
ATV Manufacturer: Manufacturers don't always comply with ATV safety regulations. As confirmed by CPSC recalls, they encounter ongoing design and manufacturing issues that can cause accidents and injuries. Experts often consider the basic ATV design—short wheelbase, a narrow track, and a high center of gravity—as problematic.
Vehicle Operators: Some ATV riders have a right to drive on certain parts of the road. Vehicle drivers must take proper precautions to avoid collisions and allow ATV riders to proceed safely.
Property/Trail Owner: Some ATV accidents occur due to poorly maintained or marked trails. If maintenance issues contribute to an ATV accident, the property owner shares negligence with other parties.
Vehicle Maintenance Contractor: If an accident occurs due to improper ATV maintenance or repairs, the mechanic shares liability for the accident.
Supervising Adults: When an unsafe young driver causes an accident, their parents or other supervising adults share responsibility for their actions.
How Negligent Parties Defend Themselves
When individuals, businesses, or other entities cause or contribute to someone's injuries, they don't simply pay when you ask them to.
Negligent parties, their liability insurers, and defense attorneys usually follow a defense strategy that often begins with their accident report.
Deny Liability: Some negligent parties report their claims as "no liability." Unless the evidence proves otherwise, the insurance company stands by their insured's version.
Negotiate Conservatively: Even when an insurer decides to pay, they don't always negotiate fairly. They sometimes make low offers or make no offer at all. This tactic often forces an injured victim into filing a lawsuit. Then they must choose whether to accept a low offer or spend more time and money for an uncertain outcome.
Evidence: When a manufacturer knows they marketed a product that causes harm, they often keep that information to themselves. That's why the CPSC must sometimes force manufacturers to recall their defective products or offer to repair them.
Take a Chance at Trial: Some defendants know that if they go to trial, the injured person might not have enough evidence to prove their case.
Nicolet Law Accident & Injury Lawyers deal with these defense strategies by preparing our case from day one. Our attorneys evaluate the evidence and damages. We produce a strong case whether we're negotiating informally, mediating, or presenting at trial. If trying a case is the only option for recovering a fair settlement, our law firm has the resources to complete the discovery process and deliver our evidence in court.
Contact Our Minnesota ATV Accident Attorneys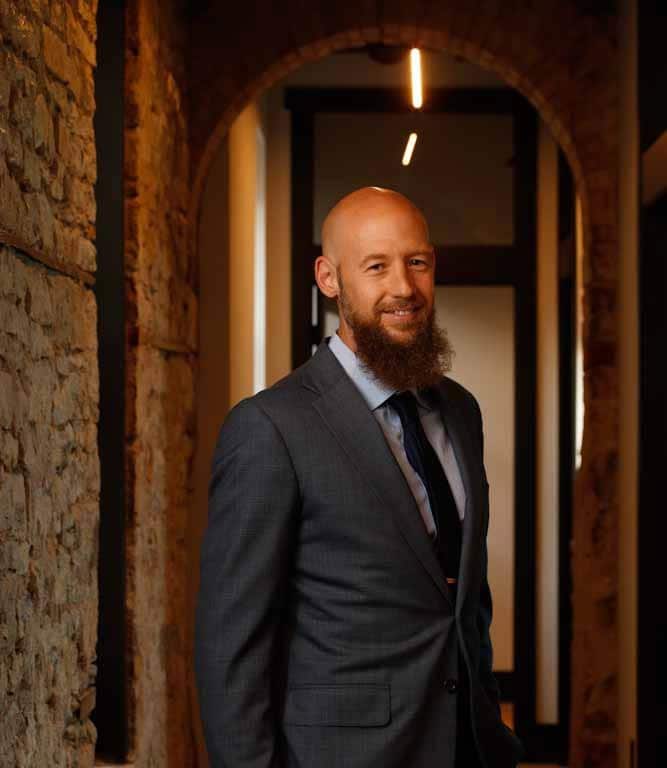 ATV accidents are usually too complicated to handle without legal representation. You need a dedicated Minnesota ATV accident attorney working on your behalf. At Nicolet Law Accident & Injury Lawyers, we address complex liability and damage issues while our clients take time to heal. When you retain our firm, we take immediate steps to protect your legal rights and work toward resolving your claim.
When you're ready to discuss your case, contact us to schedule a free consultation. Please call (612) 446-3999, click our chat button, or visit our contact page and leave a detailed message.
"
I worked with Russell at Nicolet Law after I suffered a severe Traumatic Brain Injury from a car accident. He was a great support and helped me through this hard time. With my TBI I struggled to com
prehend and keep track of parts of my case. He was always there for my questions and keeping me informed. I am very happy with the results of my case. Thank you so much Russell!
"
"
After my auto accident I was very frustrated and confused with the insurance process. I had a moderately severe concussion and a very difficult time right after the accident. I contacted attorney Nick
 Angel and my life became much easier. I was able to concentrate on my healing while Nick and his assistant Raelyn took care of all the legal and insurance headaches. They kept me updated throughout the entire process and were available to answer all my questions.
"
"
Professional, excellent communication, taking time to make sure you understand the details and your options... these are just a few of the ways I would describe Nicolet Law Office. We worked specifica
lly with Adam Nicolet on a complex accident and he did far more than a superb job. I would have no issue recommending Adam or this law firm and, well actually, I already have twice.
"