Injuring your spine is one of the worst bodily injuries imaginable, especially since it can happen in minutes during an accident. Perhaps you know this all too well as you face spinal cord issues in a local New Richmond hospital.
The cause of your accident is no doubt still on your mind. Maybe it was a slip and fall or a severe car accident. Either way, your life is changed forever, and you need some guidance on how to proceed with life.
Legal representation is essential at this point. You'll want to learn what your legal options are, and how you could receive compensation from the negligent person or party.
Let our New Richmond spinal cord injury lawyers help you at Nicolet Law Accident & Injury Lawyers.
Why Hire Us for Your Spinal Injury Case?
Our strong commitment to helping people navigate complex legal issues is why Nicolet Law is New Richmond's legal resource for spinal cord injuries. The vast experience of our team also matters, including from our founder, Russell Nicolet. We've helped many people reach significant settlements after suffering major spinal injuries.
Considering you may never walk again (or have the ability to work), you need a good personal injury lawyer in your corner to fight for justice. It means gathering the right evidence, negotiating with the defendant's insurance company, and even pursuing a civil lawsuit for punitive damages.
Your first step is to get yourself in recovery mode. Then, if possible, call us to get started on a free consultation of your case.
One thing you don't have to worry about is a legal bill for the consultation. We'll determine whether you have a real case before going to the trouble of finding evidence. Gathering that evidence is a major part of making a compelling case.
What Caused Your Spinal Cord Injury?
New Richmond's small community is one where anything can happen to cause spinal injury. The city has numerous hotels, parks, and rivers, all of which have a strong potential for accidents.
Busy roadways most of the year also bring accident threats. Because Wisconsin is also more vulnerable to snow and ice during the winter, slippery sidewalks bring many slips and falls that potentially injure the spine in seconds.
These general causes of spinal injuries are some of the most common in the area:
Slip and Falls Indoors or Outdoors
Snow or ice from a Wisconsin winter storm is almost inevitable late and early in the year. Many businesses have to adhere to a duty of care to keep their sidewalks safe for walking.
Unfortunately, some businesses get careless, causing customers to slip in the parking lot or along an outdoor walkway. The potential for slipping indoors increases when customers track in snow, ice, or rainwater.
Janitorial crews working on floors indoors also cause slip and fall potential. A waxing of the floor or a general cleanup usually requires a caution sign for customers to easily see. Once in a while, these aren't put in place, causing inevitable slips.
Hitting your head hard on a floor or other surface after a slip and fall potentially severs the spinal cord in an instant.
Car Accidents
A head-on collision, broadside, or rear-end collision all cause potential damage to the spine. The higher the impact of the crash, the more possibility you could snap your neck and sever the spinal cord.
This nightmare scenario is one we see happen all the time at intersections and highways in the New Richmond area. Much of the reason is due to careless driving.
Distractions while driving and driving above the speed limit are the most typical causes.
Sometimes a car accident happens due to mechanical defects that are not the complete fault of the driver.
An Injury on the Job
New Richmond has many manufacturing plants in the area, often bringing risk to these physical jobs. OSHA violations are sometimes violated, leading to someone in warehouses or similar facilities severely injuring their spine.
Many times, it's due to falling from a high platform. Or, it might even mean having a head-on collision while out driving a company vehicle.
Evidence Proving Your Spinal Cord Injury
A major first step in your legal journey is us visiting the scene where your spinal cord injury took place. Was it at an intersection after a car accident? Was it at your workplace where you were injured on the job?
Perhaps the accident even occurred at home and relates to product liability. For instance, an exercise apparatus might have had a mechanical failure, leading you to fall off the device, causing spinal damage.
No matter what the accident scenario, we'll look for evidence that shows whom to blame. For car accidents, this means interviewing witnesses and obtaining any video footage available showing the accident happening in real-time.
Acquiring video from security cameras in businesses is sometimes challenging since the company owns it. A subpoena is usually necessary to make sure we get that footage.
Your Medical Records
Evidence showing exactly how your spinal cord injury happened is very important. Once we acquired medical records from the medical facilities that treat our clients, we keep them in a safe place.
Perhaps you're too injured right now to gather your medical records. We'll do it for you as long as you or a loved one you have authorized will consent to us obtaining them.
Your evidence is put together and sent to an insurance adjuster who decides the compensation the company is willing to pay.
Negotiating a Settlement
It's not always a quick and easy road to a settlement when dealing with insurance companies. Our experience in negotiating with these companies, however, can make all the difference to a positive outcome.
Don't immediately take any early settlement offers from the insurance agency. They may try to contact you in advance to offer a low amount.
Should the insurance company refuse to give you the amount you deserve, we'll help you develop a strategy for achieving justice.
Get Legal Help Now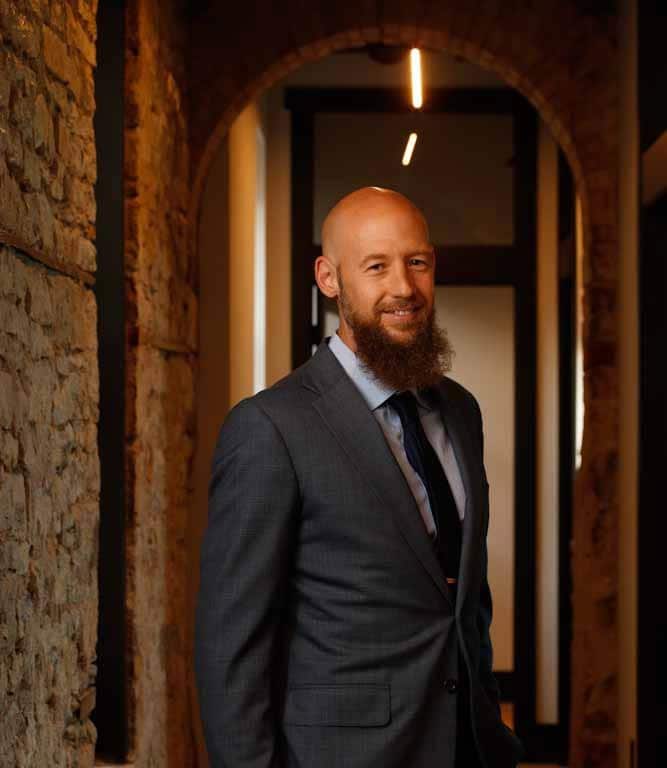 Contact Nicolet Law Accident & Injury Lawyers at (715) 226-6164 if you suffered a spinal cord injury in an accident here in New Richmond. Our attention to the safety of our community, and seeking your justice, is our top priority.
"
Russell Nicolet represented me for a personal injury case. He was kind, compassionate, and professional. He made my concerns his concerns. He was quick to respond to my calls and emails. He kept me up
 to date on the progress of the case. Every interaction with Russel and his staff was a positive experience. If you are looking for a personal injury attorney, I highly recommend Russell, or his colleagues at Nicolet Law.
"
"
Eureka!! All of my questions were answered and although my situation doesn't warrant legal representation I am moving forward with quality resources and the added confidence that I received know
ledgeable and professional advice.
"