Green Bay Slip and Fall Attorney
As one of Wisconsin's oldest and most popular travel destinations, Green Bay has succulent cheese, thrilling football games, and bustling manufacturing industries. But Titletown is also known for its wet, icy weather. With this combination of elements, it is no surprise that Green Bay residents encounter slippery walking surfaces. If you fell on a slick or uneven surface and are injured, a Green Bay slip and fall attorney can help you receive the compensation you deserve.
At Nicolet Law Accident & Injury, we handle slip and fall injury claims for clients across the Greater Green Bay area. Our skilled lawyers know how to build a winning case with a proven track record of success handling slip and fall cases for our clients. Our goal is to secure compensation for your medical bills and lost wages while you focus on recovering from your injuries.
Winning Results From a Five-Star Legal Team
There are over 15,000 lawyers and 3,900 law firms in Wisconsin. But very few personal injury firms have both a five-star rating and an A+ rating by the Better Business Bureau (BBB). Since 2007, Green Bay residents have turned to Nicolet Accident & Injury Lawyers to handle their slip and fall injury cases.
Here are some of the top reasons why we are the leading personal injury firm in Green Bay:
Outstanding Results: Our firm has recovered millions for clients, including in slip and fall cases.
A Convenient Green Bay Location: Our 2300 Riverside Drive address is easily accessible for clients seeking face-to-face legal guidance.
A Responsive Team: We answer calls 24/7 and are accessible by live chat, phone, or email. We even make house calls if that is your preference.
Award-Winning Excellence: Nicolet Law Accident & Injury Lawyers was a Top 40 Under 40 Trial Lawyer and Top 10 Personal Injury Attorney.
Exceptional Client Reviews: Our client testimonials describe our firm in glowing terms.
A Focus on the Future: Nicolet Law Accident & Injury Lawyers give back to the community in many ways, including awarding a $5,000 college scholarship.
Common Slip And Fall Injuries
When many people hear the three words slip and fall, they envision a quick tumble that produces little more than a superficial scratch or scrape. In reality, slips, trips, and falls can lead to severe long-term injuries and fatalities. They are the top cause of death among older adults and are responsible for over eight million emergency room visits every year.
Some of the most common slip and fall injuries include:
Fractures and Broken Bones: Falls can end with forceful or awkward landings that lead to broken legs, hips, arms, and collarbones.
Cuts and Abrasions: People who fall often sustain cuts to their legs, arms, and head. While many cuts are superficial, some may require stitches.
Neck Injuries: Muscle strains, torn neck ligaments, and other soft tissue injuries sustained during a fall can cause long-term nerve pain.
Sprained Wrists: People frequently extend their arms to brace themselves before falling. This action can lead to sprained or broken wrists.
Back Injuries: Falls can lead to fractured vertebrae and slipped or herniated discs. Back injuries are painful and may require costly surgery.
Knee Damage: Many people twist or sprain their knees while falling. This injury can result in a dislocated patella or torn knee ligaments.
Spinal Cord Injuries: While less common than most of the injuries above, spinal cord injuries may cause paralysis and neurologic impairment.
Concussions and Other Brain Injuries: When people hit their heads on the ground or a hard object, they may sustain concussions or brain injuries.
Even if you only sustain small cuts and abrasions, get a complete medical evaluation. Sometimes, superficial injuries may indicate more serious internal injuries to your organs beneath the skin. Failure to see a trained medical doctor can lead to long-term health complications that could permanently affect your mobility and ability to work.
<iframe width="200" height="113" src="https://www.youtube.com/embed/UWQcllBhM6A?feature=oembed" frameborder="0" allow="accelerometer; autoplay; clipboard-write; encrypted-media; gyroscope; picture-in-picture; web-share" allowfullscreen title="Wisconsin &amp; Minnesota&#39;s Award-Winning Injury &amp; Accident Lawyers | Nicolet Law"></iframe>
Determining Who Is At Risk For Slip And Fall Injuries
Anyone who works, shops, socializes, or dines in Green Bay is at risk for a slip and fall injury. Even Green Bay's greatest football players and top cheese connoisseurs can lose their balance and slip on a slick surface. While no one is immune to the threat of injury, some people are more likely to be injured after slipping and falling.
Here are a few examples:
Key Causes of Slip And Fall Injuries
Many factors cause a person to slip and fall. But some variables are more likely than others to lead to injury.
Here are some of the leading causes of slip and fall accidents in Green Bay:
Moisture on Floors: Moisture can accumulate quickly on flooring, especially during the winter when people enter buildings with wet shoes.
Accumulated Floor Wax or Polish: Excessive cleaning supplies can cause a slick film to develop on top of floors.
Poor Lighting: Slips and falls are more likely to occur in dimly lit facilities where it is difficult to see accumulated moisture or slick spots.
Loose or Uneven Flooring: Poorly maintained floors are likely to have loose floorboards that buckle and cause people to trip and fall.
Exposed Wires and Power Cords: People can easily trip over loose power cords and wires strewn across the flooring.
A Lack of Safe Hand Railings: Walking down stairs, hallways, and mezzanines without secure hand railings can lead to slips and falls.
If you suffer an injury due to wet or loose flooring, insufficient lighting, or a careless trip hazard, you may be entitled to compensation for your injuries. Reach out to a Green Bay slip and fall attorney with Nicolet Law Accident & Injury Lawyers to start your claim. Our lawyers will listen to your story, determine whether your injuries were due to negligence, and gather the necessary evidence to build a case on your behalf.
Proving Liability In Slip and Fall Injuries
The key to a favorable outcome in your case is proving that another party (typically the property owner where the injury occurred) was negligent and therefore responsible for your fall and related injuries.
To receive compensation for injuries sustained during a fall, you must prove:
The property owner or operator of a facility created hazardous conditions;
The owner or operator knew about the hazardous conditions and failed to correct the problem or sufficiently warn visitors; and
The hazardous condition existed long enough for the property owner or operator to take corrective action.
Proving liability is not always an easy task, especially since you must also convince the court that you were not behaving carelessly in the moments leading up to your fall. For example, if an intoxicated person does not see two "Wet Floor" signs and slips in a diner, the diner owner may not need to pay for any damages the fall caused.
Nicolet Law Accident & Injury Lawyers have a successful track record proving negligence in Green Bay slip and fall cases. We realize that every case is unique, and some cases may involve multiple defendants when defective products or materials are involved.
Here are some of the potential parties who may be held liable for slip and fall accidents:
Property Owners: Examples include owners of hotels, retail businesses, restaurants, and entertainment venues.
Property Managers: Sometimes, a property management company may be held liable for failure to repair or treat flooring issues.
Employers: If an employer fails to improve poor lighting, wet floors, and trip hazards, they could be liable for a team member's injuries.
Condominium Associations: Failure to maintain property grounds and common areas can lead to dangerous conditions for residents.
Steps to Take Following a Slip and Fall Injury
After you slip and fall, the steps you take can make a difference in your recovery and long-term health. If you slip and fall, remain calm. While you may initially feel embarrassed about your fall, do not to allow your embarrassment to stand in the way of seeking help and reporting your injury.
Here are some steps you can take if you slip and fall:
Step one: Call for medical help if you sustain a moderate to severe injury. Do not try to move if you have numbness or severe pain.
Step two: Remove yourself from harm's way if your injuries are not severe. For example, move out of the path of carts, forklifts, or other vehicles.
Step three: File a report. If you are at work, ask for a supervisor or Human Resources Manager to come to the location of your fall.
Step four: Take photos and notes. Taking pictures of any moisture on the floor, loose floorboards, or poor lighting can help your case later.
Step five: See a doctor right away. Even if your injuries do not seem severe, it's wise to see your doctor for a physical examination.
Step six: File an insurance claim. While cases may vary, the property owner where you fell is usually responsible for paying damages.
Step seven: Contact a Green Bay Slip and Fall Attorney: The Nicolet Law Accident & Injury Lawyers are available 24/7 via live chat or phone to take your call.
If you are injured while working, file a worker's comp claim as quickly as possible. Most employers are required to have workers' compensation insurance. If, for some reason, your employer does not carry workers' comp insurance, then talk to one of our lawyers about filing a personal injury lawsuit. This step can help you receive compensation for any medical bills and lost wages you incur.
Your Trusted Green Bay Slip And Fall Attorney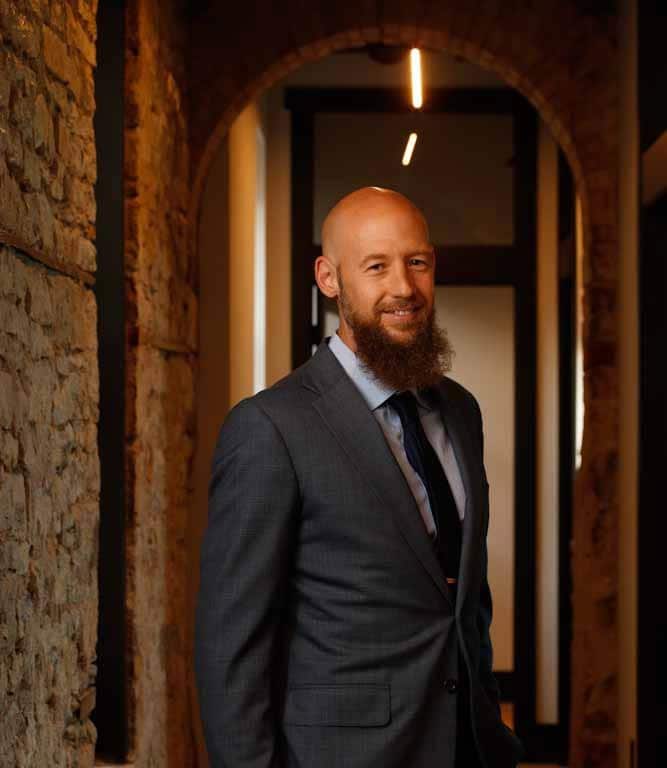 Slip and fall injuries can be painful and involve a lengthy recovery period. But with the guidance of a skilled lawyer, you can put yourself on the path to a faster recovery and support. An experienced attorney can build a winning legal case to help you receive the compensation you deserve so that you can recover financially.
We invite you to contact us at Nicolet Law Accident & Injury Lawyers as you take your first step toward recovery. Our slip and fall lawyers have the expertise and resources necessary to get you the recovery you deserve.
You never need to pay us in advance. In fact, hiring one of our lawyers is as easy as 1-2-3:
1: First, contact us online or call (920) 504-3655 for your complimentary consultation. You can contact us 24/7.
2: Second, share the details of your injury. Our legal team will help determine whether you have a strong claim.
3. Third, sign an agreement to work with one of our lawyers. This third and final step will allow us to begin building your case.
Once you finish these three tasks, you are officially one step closer to securing the compensation you need to cover costly medical expenses and loss of income. We look forward to serving as your trusted Green Bay Slip and Fall Attorney.
Green Bay Office:
2300 Riverside Dr,
Suite 105
Green Bay, WI 54301
Phone: (920)-504-3655